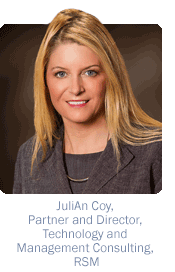 Women have made great career strides in recent years breaking in to the longtime male-dominated world of Science Technology Engineering and Mathematics (STEM), but there are still areas where the gap persists, particularly in senior leadership roles and on the technology side of public accounting and consulting firms. JuliAn Coy, recently named partner at RSM, has been a driving force behind the company's mission to support more women pursuing STEM careers. Consulting caught up with Coy to get a pulse of the progress the industry is making to create more opportunities for women and what women need to do to excel in such roles.
Consulting: How do you see the current state of women in STEM and consulting?
Coy: Last summer when I joined RSM for the West Region in technology management consulting, I was the first woman on my team within my region. Now we have 21 women just 12 months later. There seems to be an evolution when you put a female leader in a STEM career at some of these public accounting firms that have typically been male-heavy or the females have resided in the accounting, audit and tax side of the business, it tends to attract more women. I'm definitely seeing that happen here and I saw it happen at my previous firm.
Consulting: How important is already having women in key leadership roles to opening doors to women wanting to pursue STEM careers?
Coy: I think it's super critical that public accounting and consulting firms continue increasing their female leadership, because it's the female leadership that's attracting the new millennial talent into the STEM consulting field. I just got back from Minnesota and there the firm hosted a pathway internship program that had 50 students, mostly juniors and seniors at nationwide universities who were interested in a technology career with the firm. Of those 50 students, 7 were female. Which is definitely an uptick, in fact it's a 60 percent increase over the attendance we saw last year. But those are the millennial class. We're seeing an increase of females coming up through the millennial class, which is indicating that they're doing a better job of attracting female talent at the university level, driving women into technology careers. But where the gap is right now is the female leadership level, especially in the technology part of public accounting and consulting organizations.
Consulting: How have you actively sought out and recruited top female talent?
Coy: I think females just tend to be drawn to other females. When I attend campus recruiting events for example there might be a line of women that if it's myself and 3 male partners standing at the booth together, the women will line up and wait to talk to me, even if a male was available. I think it's just the familiarity and them wanting to talk to a female leader is what's starting to attract them.
Consulting: How much progress have you seen when it comes to women in STEM careers?
Coy: I think companies are making great strides forward and I've definitely seen huge improvements over the past several years. I think there's just such a gap between senior female leadership in technology careers and in consulting organizations. I don't think we're having any trouble attracting and hiring millennial women in STEM field. I still think there's a bit of work to do there, but I see us making headway. I think bridging the gap between the incoming new associate-level female consultants in STEM careers and the senior-level leadership is the biggest gap that we have right now. In terms of female regional leaders, the level I'm at, senior leaders in a public accounting firm in the technology consulting area, there's two of us here at RSM, in a 10,000-employee, $2 billion, 90-year-old firm. But in terms of 1-4 year female senior associate consultants in the consulting or technology field here, there are hundreds across the firm.
Consulting: How important is having sponsorship from boards and senior leadership to getting more women in leadership roles?
Coy: Super critical. And I think that senior firm leadership is already doing that. Public accounting firms are playing a little bit of catch-up. If you think about the tech companies, the Amazons, the Facebooks, the Yahoos, they all have women in senior leadership at the helm. But then you switch over to the consulting area, and what you'll find is we're drastically behind. So a lot of the public accounting firms have stretched over into consulting, they've opened up advisory and consulting technology practices, that's where we're seeing the drastic difference.
Consulting: How would the consulting industry benefit from encouraging more women to pursue STEM careers?
Coy: I think companies want to do business now with diverse companies. The mindset is changing, companies want to do business with companies that are giving back to communities, that are showing diversity in their cultures, that have good talent. So I think the more diversity and the more work we continue doing to improve in this area is going to help increase the client base.
To continue reading, become an ALM digital reader
Benefits include:
Complimentary access to Consulting Magazine Online and digital edition
Bi-monthly digital newsletter delivered to your inbox
1 free article* every 30 days to Consulting Magazine's sister publications
Exclusive discounts on events and publications produced by ALM
Already have an account? Sign In