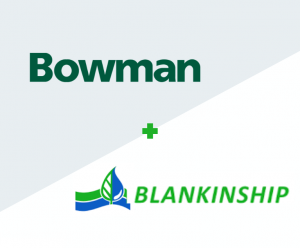 Bowman enters into definitive purchase agreement with California environmental firm.
Bowman has announced the acquisition of Davis, California-based Blankinship & Associates. Blankinship, an environmental sciences and engineering firm, specializes in providing water resources services, natural resource management services, permitting and compliance services, and specialized training. Established in 2000 by current president Mike Blankinship, the firm serves both public and private sector clients providing solutions to complex environmental and natural resources challenges that intersect the built environment and natural resources. Blankinship's staff of professionals will all become Bowman employees in connection with the acquisition.
"Mike and his team have a unique set of skills and specialties that have been honed during his more than 20 years in business," said Gary Bowman, chairman and CEO of Bowman. "Their reputation as a leading source of environmental sciences and engineering services was what originally drew us to Blankinship, but as we got to know them it was their professionalism and unrelenting can-do culture that compelled us to make them part of Bowman. Their practice will be of immediate value in every aspect of our business, and we expect there to be significant revenue synergy and wallet-share expansion opportunities created by this acquisition."
To continue reading, become an ALM digital reader
Benefits include:
Complimentary access to Consulting Magazine Online and digital edition
Bi-monthly digital newsletter delivered to your inbox
1 free article* every 30 days to Consulting Magazine's sister publications
Exclusive discounts on events and publications produced by ALM
Already have an account? Sign In