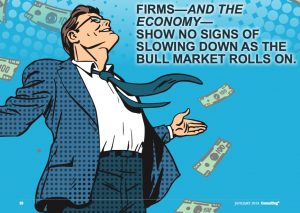 The results of Consulting's annual Executive Outlook are in—and the numbers are looking good. Really good. While the economy hums along, consulting firms are doing their very best to take full advantage of the momentum while the going—and growing—is good. Pipelines remain strong and firms are still in the midst of a hiring frenzy as they need those human resources to get all the work done. Let the good times roll would seem to be the mantra for 2018 based on the results of Consulting magazine's annual Executive Outlook Survey.
Continued positive economic momentum combined with a massive corporate tax cut coming (although that tax cut wasn't a reality for the majority of the time the survey was out in the field) leads to an upbeat and bullish forecast among consulting executives. Sprinkle in a dash of healthcare upheaval and increased infrastructure spending on the horizon, and the results speak for themselves.
Of course, it's not always so cut-and-dried. The economic engine that will keep the good times rolling is influenced a great deal by what happens in Washington… and maybe even what happens on Twitter.
To continue reading, become an ALM digital reader
Benefits include:
Complimentary access to Consulting Magazine Online and digital edition
Bi-monthly digital newsletter delivered to your inbox
1 free article* every 30 days to Consulting Magazine's sister publications
Exclusive discounts on events and publications produced by ALM
Already have an account? Sign In