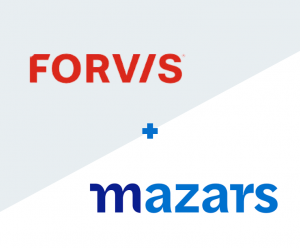 Forvis, the eighth largest public accounting firm in the United States, and Mazars, a leading international audit, tax and advisory firm, have jointly announced they will create a new, top 10 global network, effective June 1, 2024. The new network will position both firms for continued global growth by expanding their capabilities to serve clients, especially those with international needs.
The network will operate under a single brand worldwide, Forvis Mazars. With approximately $5bn in revenue, Forvis Mazars will be a new entrant in the top 10 global network rankings. Uniquely formed of just two members, the network is designed to be agile, deliver consistency and have the global scale to meet clients' needs. Both network members will remain owned by their current respective partnerships. Effective June 1, 2024, Mazars USA will join Forvis Mazars in the U.S.
"A two-firm network, operating under a single global brand, quickly advances our firms' shared strategies. It's an opportunity to better serve our clients, especially those with international needs, and support our people on a path of continued growth. Our organizations know each other well, with a strong history of collaboration and very similar cultures of putting our people and clients first," says Tom Watson, CEO of FORVIS. "FORVIS has always been passionately committed to providing an Unmatched Client Experience® and unlocking the potential of both our clients and our people, and this opportunity allows us to do so on a strengthened global platform."
To continue reading, become an ALM digital reader
Benefits include:
Complimentary access to Consulting Magazine Online and digital edition
Bi-monthly digital newsletter delivered to your inbox
1 free article* every 30 days to Consulting Magazine's sister publications
Exclusive discounts on events and publications produced by ALM
Already have an account? Sign In