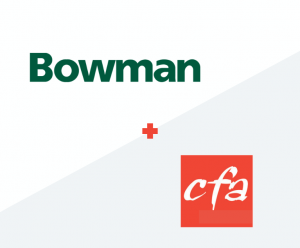 Bowman has announced the acquisition of CFA, Inc., headquartered in Reno, Nevada. Founded in 1981, CFA provides a mix of civil engineering, planning, surveying, mapping, and remote sensing to a mix of public and private sector customers.
CFA works on projects involving public works and utility infrastructure, traffic and transportation management, data centers, health care facilities, educational institutions, hospitality venues, and recreational complexes. The firm's staff of approximately 30 professionals includes licensed surveyors, professional engineers, a certified planner, certified survey technicians and FAA Part 107 certified UAS pilots. All CFA employees will join Bowman in connection with the acquisition.
"CFA's team of professionals will be a terrific addition to Bowman," said Gary Bowman, chairman and CEO of Bowman. "CFA is one of northern Nevada's leading engineering, surveying and planning firms with clients, capabilities, and a geographic focus which are all extremely complementary to the core business of Bowman. This acquisition strengthens our presence in Nevada and provides a solid base from which to continue expansion throughout the state and beyond. I am pleased to have everyone from the CFA team join Bowman."
To continue reading, become an ALM digital reader
Benefits include:
Complimentary access to Consulting Magazine Online and digital edition
Bi-monthly digital newsletter delivered to your inbox
1 free article* every 30 days to Consulting Magazine's sister publications
Exclusive discounts on events and publications produced by ALM
Already have an account? Sign In