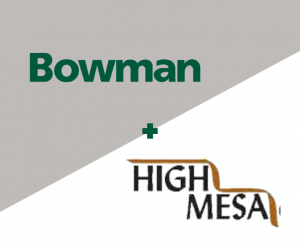 Acquisition boosts public sector surveying, mapping, engineering and utility infrastructure capabilities.
Bowman has announced the acquisition of High Mesa Consulting Group, a multidisciplinary consulting firm headquartered in Albuquerque, New Mexico. Founded in 1977, High Mesa provides land and UAV (drone) based surveying, mapping and geospatial services; sub-surface utility infrastructure engineering, inspection and mapping; civil engineering and planning services throughout New Mexico, Eastern Arizona and Southwestern Colorado. High Mesa is Bowman's 10th acquisition in 2023.
High Mesa serves a wide range of customers involved in the design, construction and operation of horizontal and vertical infrastructure including local, state and federal clients in addition to private sector owners, contractors and other technical consultants.
To continue reading, become an ALM digital reader
Benefits include:
Complimentary access to Consulting Magazine Online and digital edition
Bi-monthly digital newsletter delivered to your inbox
1 free article* every 30 days to Consulting Magazine's sister publications
Exclusive discounts on events and publications produced by ALM
Already have an account? Sign In