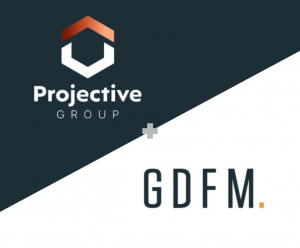 Rebranding confirms position in European financial services sector, acquisition of London-based firm boosts British practice.
Projective Group has launched a transformative rebrand designed to reflect the full depth and breadth of their expertise as an end-to-end change specialist in Europe. The move will support the group's innovative and growth-focused approach to helping financial institutions embrace change and create lasting value through dedicated divisions in Transformation, Data, Payments, Pensions, Talent, and Risk and Compliance. Simultaneously, Projective Group realizes a next step in its ongoing strategic growth plan with the acquisition of UK-based GDFM Consulting, affirming its stronghold in the European financial services sector and boosting the group's managed services proposition.
Starting out as a boutique consultancy firm in 2006, Projective Group has established its reputation as a trusted partner for clients who are determined to excel in the ever-changing financial sector. Thanks to an impressive buy-and-build strategy, the group now encompasses over 1,100 experts across six major European financial centers, who support organizations in achieving growth that has a lasting impact on their business.
To continue reading, become an ALM digital reader
Benefits include:
Complimentary access to Consulting Magazine Online and digital edition
Bi-monthly digital newsletter delivered to your inbox
1 free article* every 30 days to Consulting Magazine's sister publications
Exclusive discounts on events and publications produced by ALM
Already have an account? Sign In