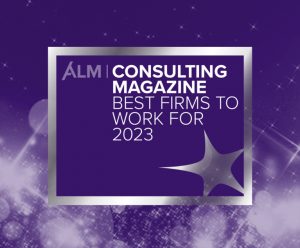 In today's world, workplace satisfaction is a critical factor to both the success of a company and the health and welfare of the people who make it function. Consulting Magazine has worked to recognize our profession's Best Firms to Work For for more than two decades.
Competition for human capital in today's competitive marketplace makes it more important to invest resources and technology to ensure attractive and highly-fulfilling work environments. Consulting Magazine believes showcasing the efforts companies invest to ensure the happiness, engagement and professional fulfillment of their greatest asset inspires others to do the same.
More than 7900 surveys were completed by billable consultants within the winning firms. Those submissions delivered quantifiable data, programmatic explanations, descriptions of operational excellence, employee engagement and work environments that set their workplaces above others and position them as the best in the industry.
To continue reading, become an ALM digital reader
Benefits include:
Complimentary access to Consulting Magazine Online and digital edition
Bi-monthly digital newsletter delivered to your inbox
1 free article* every 30 days to Consulting Magazine's sister publications
Exclusive discounts on events and publications produced by ALM
Already have an account? Sign In