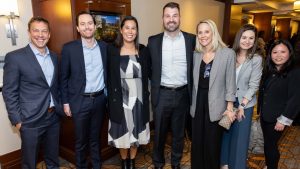 On Thursday, April 20, Consulting Magazine hosted an extraordinary group of industry professionals under the age of 35 for an honors dinner and celebration at Swissotel in Chicago.
The 2023 Rising Stars honorees are the future leaders of our industry, having demonstrated outstanding accomplishments in client service actions, relationship practices, innovation and leadership in serving both their clients and their firms.
The evening brought together the best young talent our profession has produced to date. It was a delight to meet these 49 outstanding professionals in person and to present them with the recognition they so deserved.
To continue reading, become an ALM digital reader
Benefits include:
Complimentary access to Consulting Magazine Online and digital edition
Bi-monthly digital newsletter delivered to your inbox
1 free article* every 30 days to Consulting Magazine's sister publications
Exclusive discounts on events and publications produced by ALM
Already have an account? Sign In