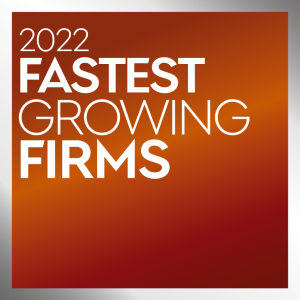 Consulting magazine has announced the rankings for the 26 consulting firms qualifying as the Fastest Growing Firms for 2022.
Each firm has a well-earned place on this year's list, and it should be noted that 11 returned as fast growers from Consulting magazine's Fastest Growing Firms survey conducted in 2020. This means that 42% of this year's ranked companies are in the midst of a 5+ year run of continued, and in some cases, accelerated revenue growth.
Of the 11 returning honorees, 6 posted higher positions over the previous assessment. ProcureAbility rose 10 positions; Horizontal, Inc. and Impact Advisors LLC each moved up 9 notches; Portage Point Partners rose 5 positions; Ryan, LLC moved up 3 and EPAM Continuum stepped up 2 slots.
To continue reading, become an ALM digital reader
Benefits include:
Complimentary access to Consulting Magazine Online and digital edition
Bi-monthly digital newsletter delivered to your inbox
1 free article* every 30 days to Consulting Magazine's sister publications
Exclusive discounts on events and publications produced by ALM
Already have an account? Sign In