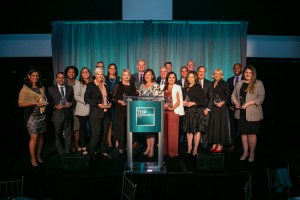 On Thursday, June. 9, Consulting Magazine hosted a most-distinguished group of professionals making a profound impact in our profession and honored them as The Top Consultants of 2022. We gathered to celebrate and recognize these incredible consultants with a gala and dinner at New York City's Pier Sixty/Current.
Consulting Magazine has been honored to identify those outstanding and distinguished practitioners of our profession since 2000. And, 22 years on, we assembled yet again to honor those whose work ethic, accomplishments, innovation and professionalism, has positioned them at the apex of our profession.
The evening brought the industry's most influential consultants together, in one room, to celebrate its best. Which is still today, a unique and unrivaled proposition in the profession.
VIEW 2022 The Top Consultants here.
VIEW the Photo Gallery from the event here.
VIEW or DOWNLOAD the Award Program Guide here.
It was a delight and an honor to meet these outstanding professionals in person and to present them with the recognition they have spent their careers earning. Enjoy these photos from this very special evening.
To continue reading, become an ALM digital reader
Benefits include:
Complimentary access to Consulting Magazine Online and digital edition
Bi-monthly digital newsletter delivered to your inbox
1 free article* every 30 days to Consulting Magazine's sister publications
Exclusive discounts on events and publications produced by ALM
Already have an account? Sign In