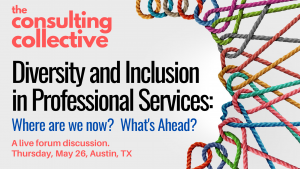 A Live DE&I Panel Discussion with Industry Leaders.
Join us on May 26, 2022, as Consulting magazine presents the first in an ongoing series of thought leadership discussions focused on topics of importance in the consulting industry.
Moderated by Consulting's  Michael Webb, this interactive session will bring perspectives from both in-industry and out-of-industry thought leaders and innovators.
To continue reading, become an ALM digital reader
Benefits include:
Complimentary access to Consulting Magazine Online and digital edition
Bi-monthly digital newsletter delivered to your inbox
1 free article* every 30 days to Consulting Magazine's sister publications
Exclusive discounts on events and publications produced by ALM
Already have an account? Sign In