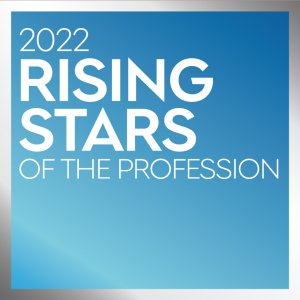 A foundational key to the success of any organization in our industry is talent. The ability to Identify and cultivate promising and committed next-generation leaders not only complements and strengthens the core of seasoned veterans, but is also critical to profitability, longevity, and a coveted reputation.
With this in mind, Consulting magazine is pleased to showcase the best young talent our profession has to offer. Our 2022 compilation of Rising Stars of the Profession comprises 64 talented and promising professionals aged 35 and under.
These young and impactful professionals of our industry are deserving of recognition for their exemplary demonstration of client service actions, relationship practices, innovation and leadership in serving both their clients and their firms.
To continue reading, become an ALM digital reader
Benefits include:
Complimentary access to Consulting Magazine Online and digital edition
Bi-monthly digital newsletter delivered to your inbox
1 free article* every 30 days to Consulting Magazine's sister publications
Exclusive discounts on events and publications produced by ALM
Already have an account? Sign In