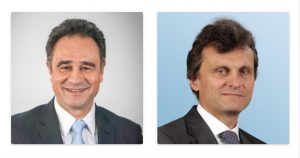 Arthur D. Little released first learnings from global CEOs in the telecoms, transport and utility industries who delivered critical infrastructure services in Asia and Italy during the early spread of COVID-19. The Leading businesses through the COVID-19 crisis: First learnings from Hong Kong, Italy and Singapore Report is available free to help businesses facing the worst of COVID-19 deliver vital goods and services safely. The report urges companies to put people before short-term profits. Consulting caught up with Dr. Karim Taga, Managing Partner of Arthur D. Little  Austria and leads the TIME practice globally and Rick Eagar, Partner Emeritus and Chief Innovation Officer and Global Leader of the Technology & Innovation Management Practice, to discuss the report.
Consulting: Can you talk a little bit about the methodology and how the report all came together? 
Taga: At ADL we regularly share insights and new thinking with our client networks of CEOs and business leaders—they tell us that they very much value these interactions.  When COVID-19 broke we wanted to do something to help the world (and our clients)  through the crisis, and we felt that the most useful thing for us  would be to organize a series of best-practice sharing virtual meetings. At each meeting we invited one of our CEO (or sometimes Chairman) client contacts to share how they had gone about leading their organization through the crisis. We also invited other CEOs to join as well, so at each 1 hour virtual meeting we had between 30-60 participants. Around 30-40 mins of each meeting was devoted to listening to the CEO's story, based on a set of key questions we posed in advance. The remainder of the meeting was given to Q&A from other CEOs on the call.  Each meeting was recorded and the key outputs were written up into a record that was sent to the CEO concerned for approval. Following this, we jointly authored the summary report which has been published.
To continue reading, become an ALM digital reader
Benefits include:
Complimentary access to Consulting Magazine Online and digital edition
Bi-monthly digital newsletter delivered to your inbox
1 free article* every 30 days to Consulting Magazine's sister publications
Exclusive discounts on events and publications produced by ALM
Already have an account? Sign In