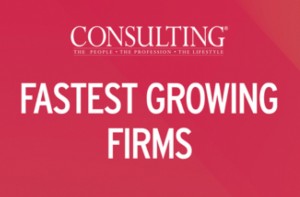 Consulting is out to recognize the firms that are shaking up the profession from the bottom up, and one of the best ways to do that, of course, is through growth.
The Fastest Growing Firms award is designed to shine a light on those firms that are making their impact through revenue growth—all too often those firms fly under the radar. These firms are the future and thus, deserve to be recognized.
To determine the rankings, Consulting evaluated revenue over a three-year period (2012-2015). To participate, firms needed to have generated at least $500,000 in revenue in 2012. In all, 61 firms qualified for ranking with a minimum of 20 percent growth.  The No. 1 and No. 2 ranked firms were separated by 69 percentage points (582 percent growth vs. 513 percent growth), and the winners average 158 percent growth.
To continue reading, become an ALM digital reader
Benefits include:
Complimentary access to Consulting Magazine Online and digital edition
Bi-monthly digital newsletter delivered to your inbox
1 free article* every 30 days to Consulting Magazine's sister publications
Exclusive discounts on events and publications produced by ALM
Already have an account? Sign In