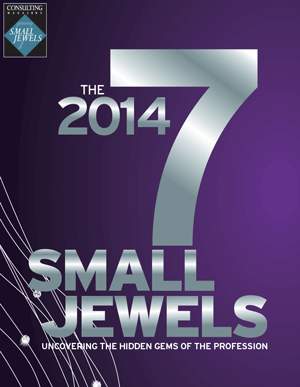 In what can only be described as an up-and-down, roller-coaster ride for the economy over the last decade, it appears we're finally in an "up" cycle. Of course, whether it's a sustained cycle or a short-lived one remains to be seen. But one thing has remained consistent throughout every frustrating phase of the economy—Consulting's Seven Small Jewels simply outperform the overall market every time. And this year is no exception.
These days, most consulting firms seem content to take whatever growth they can muster up in a fiscal year and run with it.  Growth, we learned the hard way, simply can not be taken for granted.  But one could forgive us if we took our Seven Small Jewels a little for granted,  Year in and year out, these little engines that can defy the odds and crank out eye-popping returns.
They all, in one way or another, stood out from the rest. Collectively, our 2014 winners grew revenue by an astounding 45 percent last year.  They also grew their number of billable consultants by 30 percent,  And, they're forecasting another 35 percent growth this year.  Can we doubt them?  Only is we suspect that percentage will actually be higher.
To continue reading, become an ALM digital reader
Benefits include:
Complimentary access to Consulting Magazine Online and digital edition
Bi-monthly digital newsletter delivered to your inbox
1 free article* every 30 days to Consulting Magazine's sister publications
Exclusive discounts on events and publications produced by ALM
Already have an account? Sign In