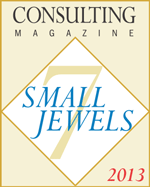 In the tumultuous economy we've seen over the last half decade, most consulting firms have seemed content to take whatever growth they can and wait out the economy. Now, as we see signs of a real recovery taking root, we turn our attention to the best niche firms defying the odds—our 2013 Seven Small Jewels. They all, in one way or another, stood out from the rest.
Collectively, our 2013 winners grew revenue an astounding 65 percent last year. They also grew their number of billable consultants by 45 percent. Some 125 firms nominated themselves for a chance to be called one of our Seven Small Jewels in 2013. The stories of the seven winning firms are highlighted over the next nine pages. What's striking is how each firm emphasizes culture before revenue.
That's surely one of the takeaways from this year's group. At the end of the section, we highlight Seven To Watch—firms that impressed but just weren't quite ready for prime time. At least not yet.
To continue reading, become an ALM digital reader
Benefits include:
Complimentary access to Consulting Magazine Online and digital edition
Bi-monthly digital newsletter delivered to your inbox
1 free article* every 30 days to Consulting Magazine's sister publications
Exclusive discounts on events and publications produced by ALM
Already have an account? Sign In