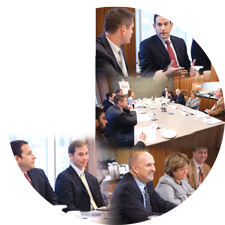 Travel management is probably one of your firm's largest controllable expenses. And, its impact on work/life balance affects employee morale. So, what are you doing about it?
In this economy, every firm is looking for an edge. Are there internal efficiencies your firm is missing? Can travel management be a way to cut costs, boost employee morale and increase retention? In an effort to answer these and other questions, Consulting magazine put the topic of travel on the table and brought together travel managers and industry executives to discuss travel, and how it impacts a firm, in more detail.

Participants
• Judy Bauer, Global Travel Director, Marsh & McLennan Companies
• Gary Beu, Managing Director, People and Leadership Development West Monroe Partners
• Linda Bice, Travel Director, Bain & Company
• David Kaufman, Managing Partner, Acquis Consulting
• Taylor Milner, Principal, Stroud Consulting
• Joe Novia, Vice President, Marriott ExecuStay
• Douglas Weeks, Director, Global Sourcing, Booz & Company
Consulting: So, we've got large firms and smaller firms represented here. Just to level-set, can each of you tell us how travel is handled at your firm? And what are the major travel management issues you're going to be dealing with in 2011?
To continue reading, become an ALM digital reader
Benefits include:
Complimentary access to Consulting Magazine Online and digital edition
Bi-monthly digital newsletter delivered to your inbox
1 free article* every 30 days to Consulting Magazine's sister publications
Exclusive discounts on events and publications produced by ALM
Already have an account? Sign In