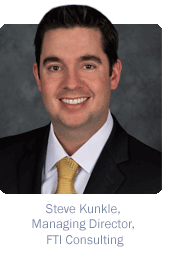 The uncertainty swirling around the future of healthcare in America has resulted in a lot of questions for companies, forcing many to rethink their strategic options and look for ways to improve processes, particularly on the transaction services side. That uncertainty, of course, creates a lot of consulting opportunities as companies navigate the healthcare landscape. To help clients find their way, FTI Consulting has appointed Steve Kunkle as Managing Director within its Corporate Finance and Restructuring segment. Consulting sat down with Kunkle to talk about his new role, the future of the healthcare transaction services segment, and what impact may be coming down the pike as the debate over healthcare rages on in Congress.
Consulting: What will be your top priorities starting out in the new position?
Kunkle: One of my first priorities is to become well-versed in FTI Consulting's many offerings, core values, distinctive industry qualifications and best practices. Being able to add clinical and compliance diligence, operational assessments and revenue cycle management expertise to the core financial diligence offering is extremely valuable to our clients and something very important for me to achieve.
Next, I aim to play a role in expanding FTI Consulting's extraordinary market position and highly-regarded reputation in the healthcare space. As a Managing Director, my contributions to the overall practice take many forms including, but not limited to, bringing in new clients, delivering first-class client service, providing thought leadership on healthcare topics, becoming actively involved in our people development and training and finding new and exciting ways of framing complex issues in a manner that adds value to my clients.
Consulting: What trends do you see shaping the Healthcare Transaction Services market?
Kunkle: Healthcare investors are increasingly looking for insights beyond the basic financial due diligence observations offered by generalists, thus creating a need for (a) transaction services teams with healthcare industry expertise and (b) access to healthcare specialists, such as former operators and experts in regulatory, coding and compliance, valuation and the revenue cycle.
As it relates to healthcare transaction services, deal landmines are often difficult to identify during a typical quality of earnings analysis and require a unique combination of qualities, including (i) analytical skills needed to extrapolate trends in collection waterfalls, (ii) experience dealing with revenue cycle matters, (iii) data crunching resources to process millions of rows of data rapidly, (iv) technical expertise of accounting guidance related to common healthcare topics (e.g., revenue recognition, noncontrolling interests, variable interest entities, physician incentives, etc.) and (v) the ability to summarize complex or nuanced issues in a pithy manner for the benefit of all interested parties.
When uncertainty arises, healthcare investors are increasingly looking for comfort that financial due diligence teams are simply not able to provide. FTI Consulting is uniquely able to mobilize a team of specialists to vet these issues, as our Healthcare Solutions services offer proficiency that is both broad and deep – we have a large arsenal of talented professionals across the wide spectrum of healthcare companies (from large hospital systems to individual specialist practice groups to pharmaceutical companies to healthcare IT).
Consulting: What are some of the biggest consulting opportunities to result?
Kunkle: The most common Healthcare Solutions work streams that go hand-in-hand with our financial due diligence ("FDD") of healthcare providers are compliance oversight infrastructure assessments and clinical risk and coding reviews (chart reviews). In certain instances, we are also brought in to provide revenue cycle procedures generally focused on identifying and implementing billing and collection process improvements. For transactions involving buyers and sellers operating in the same sector, we are sometimes brought in to perform a "clean room" review of payor contracts for both parties to help quantify post-transaction rate negotiation upsides.
Consulting: What impact does the ongoing healthcare debate have on FTI's clients and work?
Kunkle: While I won't claim to have a crystal ball, my guess is that the core themes of the Affordable Care Act will remain intact, whether new legislation passes or not. For instance, as it relates to healthcare providers, I would presume that outcome-based reimbursement is here to stay. Being dedicated to healthcare for the better part of the last decade, I've learned to accept regulatory change as inevitable. Healthcare and life sciences in the U.S. are constantly evolving, which can make navigating this industry particularly challenging for investors. This demanding environment, in turn, creates opportunities both for committed healthcare investors and for FTI Consulting to set ourselves apart from our competition.
Consulting: What are some of your goals as a Managing Director in the Transaction Services practice?
Kunkle: The things I enjoy the most about my job are that we get to look at a myriad of different businesses and that our work is valued by our clients and others that rely on our findings. At the end of the day, our clients don't view us as simple bean counters – they look at us as trusted business advisors and as an end-to-end solutions provider. One of my goals this year is to stretch myself by gaining deal repetitions and deep experience in a few new subsectors of healthcare. Another objective of mine is to continue to earn the trust of new clients and become their "go-to" advisor. I know we've reached this threshold when my clients begin to call us to get our thoughts on a specific healthcare subsector or draw on our experiences tackling a specific reimbursement issue.