Propeller
Type of Work: Pro Bono Client: Mercy Corps Northwest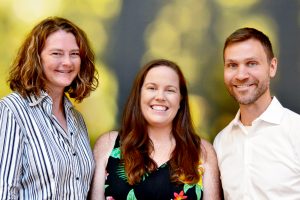 Mercy Corps Northwest provides support and resources to people taking action to improve their lives. It works to provide equitable access to the knowledge and capital that will help individuals improve and succeed as emerging entrepreneurs or in other life endeavors.
Beginning in 2017, Propeller Consulting entered into a partnership to support Mercy Corps Northwest's goals in the Portland community. Propeller donates the time and talent of its team for business seminars, short- and long-term business advising, speed mentoring events and internal process improvements related to various loan applications processes.
To date, twenty Propeller staff has contributed three or more hours to the improvement and success of the Mercy Corps mission. This constitutes nearly 30 percent of the firm.
"We are change makers and energy-bringers. We are a local firm deeply committed to living, working, playing, helping and improving our community," says Heather McFarland, Agile Practice Director of Propeller. "We believe that life is not work alone and that fulfilment comes in many shapes and sizes; that our ability to give and make social change allows us to keep our commitment to people inside and outside our firm."
McFarland says Propeller's leadership understands and supports the needs of each person to be holistically human. "We lead action and change by doing good work, acting as we think, and creating balance in all that we do," she says. "Our community moves forward faster when we bring the energy and talent to help it progress."
And the work is not just lip-service. Propeller showcases community service each month at the staff meetings. "During that time, we have shared the results of the work and have more than 30 percent of the firm actively participating with another 5 percent of the firm indicating intent to serve and developing ideas on how they can personally contribute to the work with Mercy Corps," she says.
And about once per week, Propeller has at least one person inquire about how they can support it.
"Propeller achieves its own definition of success and balance by sharing their talents both inside and outside the firm," McFarland says. "They have committed to the success of each participant in every Mercy Corps program which, in turn, motivates the team and strengthens the vision for a continued partnership."
As far as winning an Excellence in Social & Community Investment award, McFarland says the award is an incredible honor for Propeller. "We are also optimistic that this award will showcase our partnership in such a way that more organizations are inspired to help Mercy Corps or help out with another local organization."
Q&A: How does the work align with Propeller's overall mission?
McFarland: "Built into the Propeller ethos is our commitment to people. By working with local people and organizations, we can demonstrate the value of good work, balance and the unique talents of all those we interact with. Our ability to build strong relationships and inspire others to make positive change is simply part of who we are."