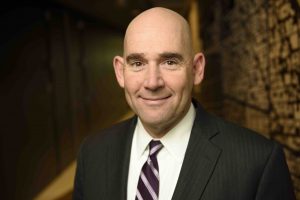 7. KPMG
Headquarters: New York Billable Consultants: 10,000 (U.S. Advisory) Client Industries Served: Banking & Capital Markets; Insurance; Alternative Investments; Asset Management; Private Equity, Building, Construction & Real Estate; Energy; Manufacturing; Technology Media & Telecom; Consumer & Retail; Government; Healthcare & Life Sciences Consulting Service Lines: (Strategy, Operations Management, HR, IT and Financial Consulting): All
This marks the third consecutive year KPMG has been one of the Best Firms to Work For. But this year, the firm jumps up six spots to No. 7 on the list.
"Being a Best Firm to Work For has a huge impact on our firm, employees and clients. Inclusion on this list validates what we've known for years internally, that we place significant priority on our people and seek to create an innovative and inclusive culture," says Carl Carande, Vice Chair of Advisory, KPMG. "When employees are engaged and people want to come work for KPMG, our clients recognize that and acknowledge the work as being top-tier. We provide that level of work because we have the best people producing the best results."
Carande also says the entire firm is optimistic and excited about the future. Business is changing fundamentally every day through new business models and technology disruption.
"At KPMG, our people know that we constantly need to innovate and be creative to provide the best products and solutions to our clients," he says. "No client engagement is the same, no business problem is the same and no business solution is the same. With all the growth and diversity of opportunity, it's an extremely exciting time to work in consulting and at KPMG."
Carande says KPMG's top priority over the next 12 months is to nurture the firm's collaborative and innovative culture in order to deliver the highest quality services and solutions to clients.
What excites him about the rest of this year and 2018 is that KPMG is in a position to help clients innovate, disrupt and grow. "This is an opportunity for our employees to think fast and be more agile with our products and service," he says. "The next disruption is just around the corner and we need to be on our toes to anticipate the next move and help our clients be successful."
KPMG's 2017 U.S. CEO Outlook survey revealed newfound confidence in growth and their organization's ability to seize the disruption opportunity. However, CEOs are concerned that their organizations do not have the sensory capabilities and innovative processes necessary to respond appropriately. "That's where a firm like KPMG can help," Carande says.
On the survey, the firm excelled in the areas of Career Development and Culture. "At KPMG our people are a top priority, and we devote a lot of time and resources to help make sure our people are well-trained, that we provide a consistently positive work experience, and that they have the opportunities to advance in their careers," Carande says. "We want them to feel good about coming to work every day, and that's all part of the unique culture of KPMG."
Q&A: What's unique about your firm? What sets it apart?
Carande: "Our people, our collaborative culture, and our breadth of services and industries served make KPMG a great place to work. We have a 120-year history of doing great work and making a tangible difference for our clients, people, and society at-large. We believe KPMG is an amazing firm and that we have a great story to share—with our people, with our clients, and with the communities in which we live and work."