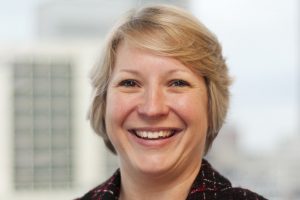 13. EY
Headquarters: London Billable Consultants: 20,000+ Client Industries Served: Virtually All Consulting Service Lines: All
After a one-year hiatus, EY is back as one of the Best Firms to Work For. Anna Bourne, Americas Advisory Talent Leader, says EY has placed critical importance on connecting its people, clients and communities to its shared purpose of Building a better working world.
"Our mutual purpose enables each of us—individually and collectively—to focus on disruptive market forces as well as rapid changes in technology while developing a connected, insightful and responsive workforce," Bourne says. "The impact of being named one of Consulting magazine's Best Firms to Work For affirms the direction of our true north and honors all the efforts of our people in inclusion—building trust and commitment with each other and our clients."
EY's recognition doesn't stop with Consulting magazine. The firm was recently ranked the #1 employer by Diversity, Inc. "EY continues to welcome, grow and enable diverse, top-tier talent who are motivated by our culture, our purpose and our ability to activate our purpose in the market," Bourne says.
"As we continue to strategically grow and extend across all domains, it becomes ever more important that we evolve our culture and stay true to our values."Bourne says with EY's purpose of Building a better working world at the center of everything it does, engaging the hearts and minds of its people so that each individual can see and feel their impact has been a true priority. "While the size of our organization enables us to deliver impact to our clients at a global scale, we are uniquely focused on the individual experience of our people and creating a transparent and connected internal community," Bourne says. "This connection is the underpinning of our culture, which extends out into our communities and with our clients—it's tangible and it's inspiring."
Bourne says we are living in a transformative age in every way, due to the enormous impact of technology, socio-economic conditions and a large emerging workforce generation. For this reason, EY is driving the "AdvisoryCONNECTED" global strategy—which is a client-centric, globally connected approach.
"Internally, we acknowledge our people are the brains of our organization and the pathway to success, so we continually think about the workforce of today and the future — and what actions we need to take to meet our own 'best employer' aspirations," she says.
It's probably no surprise that EY excelled in the areas of Career Development and Culture. "We know the workforce is changing and our newest hires, who are our future leaders, are digitally native, eager to influence and build leadership skills and accustomed to a rapidly changing environment," she says. "For these reasons we are laser-focused on tomorrow. This means activating responsive organizational and career developmental strategies as we shape our world of work while continuing to drive top-level results for our clients."
Q&A: When you look at the remainder of this year and 2018 what excites you?
Bourne: "I am excited by our top-line goal of driving exceptional client service, which enables our efforts to activate emerging technologies and build on our core offerings. Technology, digital, analytics, cybersecurity and strategy are representative examples of significant growth drivers where we have deep capability to help our clients be proactive and stay ahead of the wave of constantly emerging change."