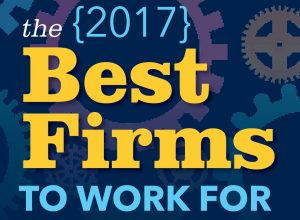 The impressive run continues. Make it four years and counting for The Boston Consulting Group as the No. 1 firm in our annual Best Firms to Work For survey. And BCG still has never been ranked outside the Top 5. Ever. Meanwhile, Navigate is back atop the Best Small Firms to Work For ranking. That makes it three years in a row for the Wayne, Pa.-firm.
Overall, the best Firms to Work For survey results indicate satisfaction levels remained relatively unchanged in 2017, which is good news since those levels are elevated by historical standards. Interestingly, scores in all six categories remained very similar year over year. Only one category—Culture—had a very minor deviation from 2016, but it was just one-tenth of a point and will not cause any alarm bells.

Attain is the only newcomer to this year's Best Firms to Work For ranking. Two other firms—ZS and Crowe Horwath—are making thier return after a lengthy hiatus.
As far as the Best Small Firms to Work For, Schellman & Company, Insight Sourcing Group, Collective Insights, GearsCRM and Kenway Consulting are making their debut this year.
The 2017 Best Firms to Work For
The 2017 Best Small Firms to Work For