With the economy continuing to hum along and consulting pipelines still strong, consultants—for the first time in a few years—are traveling less. And when they do travel, their trips are a little shorter than they've previously been, according to Consulting magazine's annual Best Places to Stay survey, which was conducted between April and July. This year, 193 consultants participated in the survey, reporting their travel habits and road-warrior preferences over the last 12 months.
Last year, 51 percent of consultants reported they spent more than 100 days a year on the road, but that number dipped to 46 percent this year, which is the lowest it's been since the great recession nearly a decade ago. For the purposes of measuring travel, the 100-day threshold works out to about two or more days per week, which is considered to be the benchmark for achieving "road warrior" status in the profession.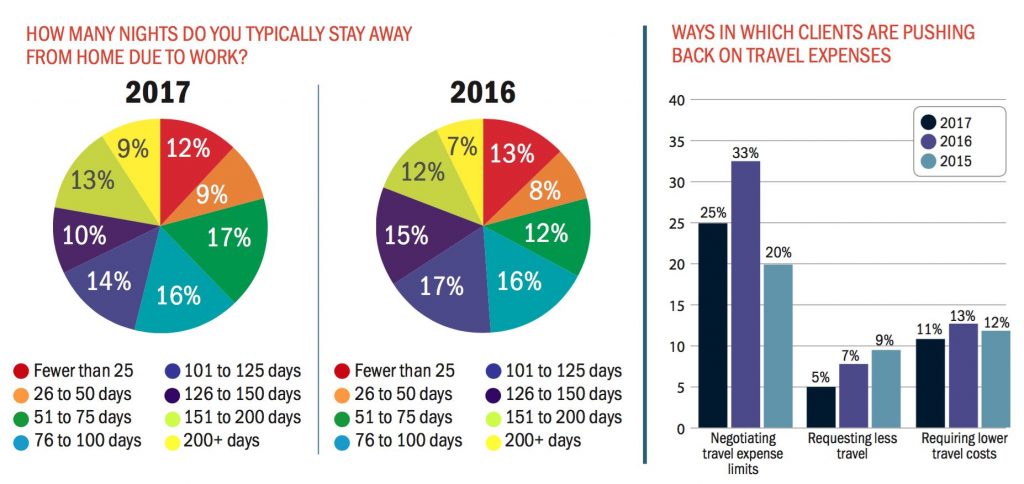 Not surprisingly, there was an increase in the number of trips in the 51- to 100-day range. This year, it measured 33 percent, up 5 percentage points from last year. Meanwhile, the number of consultants traveling fewer than 50 days per year remained relatively unchanged year over year.
DAYS AWAY DOWN 12 PERCENT
Meanwhile, the average number of days away this year was 97—a 12 percent decrease over 108 days in 2016. In 2015, which was a record year for travel, the number was a whopping 120 days. This year's 97 days represent a 19 percent decrease in just two years; that's significant and simply can't be glossed over as a statistical anomaly. The economy is still strong, but there may be a bit of correction coming as client travel is often one of the first indicators of changes in the economy. Or, perhaps more likely, consulting firms and clients are beginning to see a way around the often unsustainable work/life balance issues that consultants face.
When it comes to clients wanting to control travel costs, it's a bit of a mixed bag. In 2017, fewer clients were requesting less travel than last year—5 percent this year vs. 7 percent (2016) and 9 percent (2015). And slightly fewer clients were requiring lower travel costs at 11 percent vs. 13 percent and 12 percent the last two years. When we asked consultants to tell us about clients negotiating travel expense limits, that number dipped from 33 percent last year to 25 percent this year.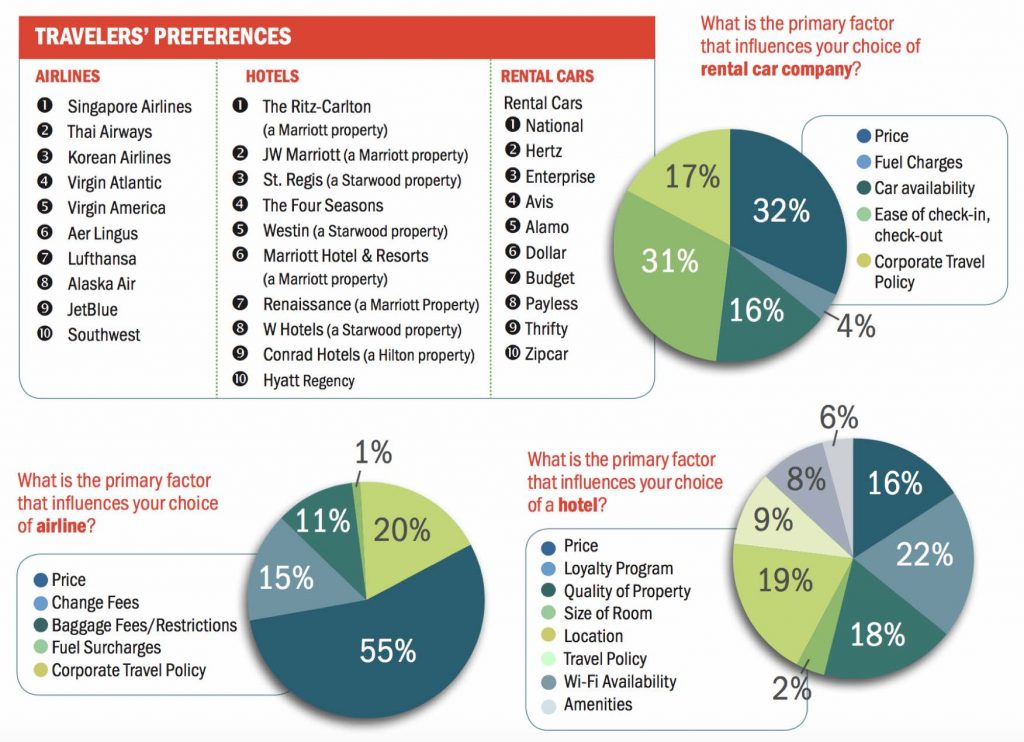 A ROOM OF YOUR OWN
Consultants still spend a lot of time in hotel rooms so it's no surprise they prefer to stay in top-notch accommodations to help make their time away from home a little more pleasant.
When we asked consultants where they'd prefer to stay the The Ritz-Carlton came out on top, followed by the JW Marriott, the St. Regis, the Four Seasons and The Westin rounding out the Top 5. Those five remained identical to 2016, but in a different order with the St. Regis being the top choice last year.
What drives consultants' hotel choices? Well, the top choice is no longer the Quality of the Accommodations as it was last year, but rather a consultant's specific brand Loyalty Program. Location was second while Quality slipped to third. Price and their firm's specific Travel Policy rounded out the Top 5 selections.
While price was not paramount to hotel selection, this year's survey indicated huge spikes in Price being a factor when choosing airlines and rental cars. More on that later.
Speaking of those hotel loyalty programs, Marriott takes the top spot with Hilton edging Starwood and Hyatt for the second spot. Those results were unchanged from last year's survey. And when it comes to Wi-Fi, no one wants to pay for it with a whopping 98 percent expecting Wi-Fi to be free. Typically, it is; especially for a hotel brand's loyalty club members.
And when the stay is extended,—that is travel lasting a few consecutive weeks or more—the Quality of Accommodations was the first priority with Price being second (up from fourth last year). Meanwhile, Loyalty Programs, Location and Company Travel Policy round out the Top 5. When it comes to specific extended stay brands, Marriott finished first overall in the survey, while Hilton, Starwood, Oakwood Worldwide and BridgeStreet round out the Top 5.
UP IN THE AIR
Most trips consultants take begin and end at the airport. There's no shortage of horror stories and bad press these days about airlines and their passengers' behavior.
So, when it comes to air travel, which carriers do the best job? Which airlines do consultants prefer? Well, for starters, it would be helpful if a consultant had some steady clients in Asia as flying in that part of the world seems to bring the most satisfaction. Singapore Airlines, Thai Airways and Korean Airlines are No. 1, No. 2 and No. 3, respectively. Virgin Atlantic and Virgin America round out the Top 5. One would have to go all the way to No. 8—Alaska Air—to find a U.S. based carrier on the list.
And in terms of choosing an airline, Price is—far and away—the top consideration for consultants with some 55 percent saying it was paramount. That's up 10 percentage points from last year. Corporate Travel Policy was second, followed by Baggage Fees and Change Fees. Those Top 3 remain unchanged from last year.
THE RUBBER MEETS THE ROAD
While an automobile isn't always necessary, they are often a big part of the travel experience. This year, National repeats in the No. 1 spot while Hertz, Enterprise, Avis and Alamo round out the Top 5.
And when it comes to choosing the right car, Price is the biggest factor at 32 percent with Ease of Check-In, Check-Out coming in a close second—and both nearly doubling Corporate Travel Policy (17 percent). Meanwhile, Car Availability (16 percent) and Fuel Surcharges (4 percent) remain stuck traveling in the slow lane as they were last year.