What is it?
R&D consulting is a cross-service discipline that targets the innovation strategy and product development operations that together furnish companies' organic growth engines. Inasmuch as this discipline sets the pace of core business growth and builds the business of the future, it is a critical determinant of company value. The performance of this engine depends on the ability of companies to identify and deliver new ways to create value and the system of strategies, operations, and governance that enable that value creation.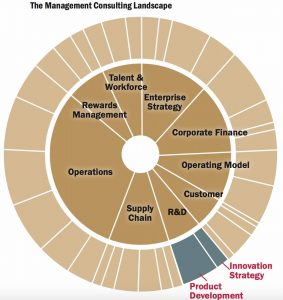 Improving this performance hinges on managing unique complexities in the system engendered by:
• The need for intensive collaboration across internal functions and with external business partners and customers;
• The distinct mindsets and ways of working required to deliver incremental changes to the core business versus radical innovations that implicate the business model
To support their performance improvement initiatives in the context of these challenges, companies seek two types of consulting services:
1. Innovation strategy: Aligning innovation to strategies, furthering technology development, structuring and managing an innovation portfolio, and injecting user-centric and nonlinear design thinking that fosters more collaborative, cross disciplinary innovation.
2. Product development operations: Developing products and services that succeed in the marketplace by effectively coordinating upstream with sourcing and production engineering and downstream with commercial execution, increasing efficiency by streamlining and accelerating R&D activities across locations and functions, and maximizing the return on the development and IP portfolio.
How can providers create impact for clients?
Both components of the discipline are undergoing significant change. Innovation strategy, a relatively young competency, is evolving rapidly in response to client demand shifting away from generic strategies toward the launch of new ideas in the marketplace on tight time frames. Rapidly delivering outcomes without overburdening clients increasingly depends on the ability to bring divergent, design thinking to bear and enlist external parties ("ecosystems") in generating ideas, flattening the learning curve, and bringing ideas to fruition. Product development operations, a more mature competency, is moving out of the lab and up the list of corporate priorities.
This is happening as companies exhaust opportunities for productivity improvements elsewhere and seek better performance from a function that is both essential to their success in the marketplace and, in many sectors, a substantial contributor to costs. But providers need to retool their offerings to keep pace with an activity increasingly defined by the convergence of physical products with software and services wrought by embedded Internet of Things (IoT) technology. This requires consultants to reconceive traditional engineering along system lines, inject design thinking for simpler solutions, shift from linear to agile governance, and transform product lifecycle management (PLM) systems.
ALM's Vanguard ratings research evaluates consulting providers based on their combined capabilities across the R&D consulting cross-service discipline. (In addition to identifying providers that are best in class in particular consulting capability areas, it rates providers in terms of their overall capability to create impact for their clients. See chart above for a summary of providers covered by ALM and which achieved Vanguard Leader ratings in one or more of the underlying topics.)
What's the outlook?
The overall R&D consulting market is expected to experience relatively low and stable growth over the next four years, but this masks important changes in the underlying segments.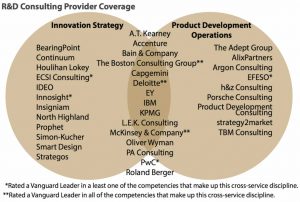 • Innovation strategy: The market has been experiencing secular growth, but is highly volatile and growth is forecasted to downshift in the short term as companies prioritize shoring up the core business. Following this period of recent growth, the market is undergoing a period of transformation that is spurring supply-side strategic moves.
While new design specialists are entering the market, consolidation is the overriding trend as providers with scalable execution capabilities acquire design resources to bolster their innovation bona fides. The market is also becoming tougher to serve because client demand for measureable outcomes raises the cost of doing business, and competition from large providers that buy their way into the market limits pricing power.
• Product development operations: Market growth is stable but changing as demand churns away from stabilizing operations through better governance towards more transformative cross-functional objectives. While outwardly stable, the product development operations consulting market is undergoing significant internal changes linked to shifts on both the demand and supply sides.
At a macro-level, there are few incentives for consolidation or new entrants, given sector-specificity and specialized downstream adjacencies. But micro-level changes are yielding winners and losers. Technical skills are winning the day, as providers with information and operations technology capabilities capitalize on the demand for new markets. Procurement-oriented providers are also gaining traction.
Nathan Simon is Director, Lead for Strategy & Operations Consulting Research. He can be reached at nsimon@alm.com.