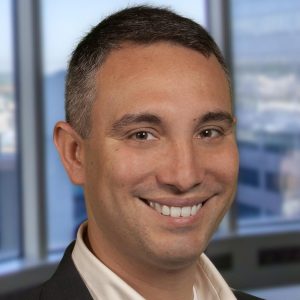 Optiv is a market-leading provider of end-to-end cyber security solutions. The company helps its clients plan, build and run successful cyber security programs that achieve business objectives. They accomplish this through their depth and breadth of cyber security offerings, extensive capabilities and proven expertise in cyber security strategy, managed security services, incident response, risk and compliance, security consulting, training and support, integration and architecture services, and security technology. Optiv maintains premium partnerships with more than 350 of the leading security technology manufacturers. ALM Intelligence's Erin Hichman talked with Stuart Solomon, Optiv's senior vice president, security solutions and operations.
ALM Intelligence: How has cyber-security evolved over the past five years?
Solomon: During the past few years, the cybersecurity industry has experienced a continuing move towards solution-based outcomes rather than point solutions. Additionally, there is a strong desire from organizations looking to ensure seamless integration and optimization across the tools and platforms they have in place. A realization of the true impacts of cybersecurity events to the business and reputational interests of every organization means an increasingly more savvy set of non-technical executives inspecting, holding accountable and driving cybersecurity programs.
ALM Intelligence: What changes do you anticipate over the next two years?
Solomon: I expect in the coming years a continued move towards a greater emphasis on efficiency of process, focus on return on investments for existing infrastructure and the use of advanced data analysis techniques. As an industry we have continued to invest in tools and resources necessary to drive the security mission forward, but we continued to be faced with technical and human limits on both at scale. As such, we have a real opportunity as an industry to enable efficient use of what we have while applying advanced techniques to overcome these common constraints on our growing security functions.
ALM Intelligence: How has this influenced client needs and decisions?
Solomon: Client needs continue to focus on challenging the notion of a silver bullet from a technical perspective. We're seeing organizations continue to push the cybersecurity industry to provide customizable and scalable solutions that solve their unique challenges rather than taking a one-size-fits-all mentality.
ALM Intelligence: How has this influenced the direction of Optiv and the services and solutions it offers clients?
Solomon: In response to our clients' evolving needs, Optiv developed a unique, comprehensive approach that enables organizations to plan, build and run successful cybersecurity programs. We also aim to provide solutions that bridge disparate technologies and tools, ultimately improving security operations while meeting the organization's business objectives.
ALM Intelligence: What do you see as opportunities for the consulting industry to help clients adjust to a constant state of threats and vulnerabilities?
Solomon: The biggest opportunity I see for the cybersecurity consulting industry is to deliver next-generation orchestration and automation techniques that enable organizations to automate the routine aspects of their cybersecurity programs so that focus can be placed on the most impactful threats. This requires a full spectrum and defense in-depth solutions, and more importantly exposes the need to create analytical processes which use both structured and unstructured data techniques. Beyond advanced correlation and enrichment, these data elements are only helpful if they can be rapidly processed, interpreted and applied to take action within existing security architectures. This collective need is at the fore of where we as an industry are heading.