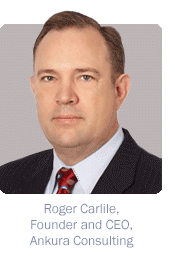 One way to get around the elements of traditional consulting firms that you want to change is to start your own firm. That's exactly what Roger Carlile, Founder and CEO of Ankura Consulting set out to do after a career spent at larger firms. The new governance, risk and compliance firm took off like a shot after its founding in late 2014, reaching 340 employees and $120 million in annual revenue and picking up some major high-profile mass tort cases along the way. Consulting caught up with Carlile to talk about the firm's founding and how he's overseen its impressive growth so far.
Consulting: What is Ankura Consulting all about?
Carlile: We're a firm in the public world we'd say fits in the governance, risk and compliance workspace. Other firms have called a lot of what we do business advisory services. We do a number of things, but the three or four biggest things we do are very much in the mass torts world. We were picked by the parties and approved by the courts to be the claims supervisor for a recent major auto manufacturer settlement. There are reports we file every month with the court on that that talks about how well that process is going, the process the company set up to pay claims, to take back cars if that's the approach that's followed or to modify or repair the car to bring them to standard. We do that kind of work, we've done frankly probably every major mass tort claim you can think of; we're very big in mass tort litigation, the more complicated ends of those kinds of issues. We also do turnarounds, restructuring/bankruptcy work. We're very focused on what we do.
Consulting: How did you come to create Ankura Consulting?
Carlile: I was the CFO of FTI consulting for 3.5 years, the year and a half before that I was also chief administrative officer and chief HR officer. Prior to that for a five-year period I headed up their forensic litigation consulting business, which we sold to them from KPMG where I was the global leader. So I had been in the business side, and when I left FTI, I didn't exactly know what I was going to do. In some respects I thought I might just join another firm, I talked to lots of those firms and finally concluded there wasn't that much difference between them. There's the Big 4, the firms that grew up out of Sarbanes-Oxley, they were basically not much different than FTI. I wanted to do something different. A lot of the big firms and a lot of public companies get focused on growth, because that's what they're hearing all the time every quarter. But growth in a professional services firm, real growth, organic growth, occurs over years, not quarters or months. That's about serving clients well and keeping those clients, getting new clients. So developing those relationships happens over time. The same thing is true with people, you develop people from one capability level to another so they're more valuable in the market over years, not overnight. I just felt like we needed to get back to a culture that was focused on real organic growth, investing in client relationships, investing in people, having a highly collaborative culture that supports all of that.
Consulting: How did you ramp up growth so quickly?
Carlile: We stated the company legally in November 2014 and didn't start operating until the first quarter of 2015. Then in March of 2016 we had so many people who wanted to join, we doubled the firm in 6 months through lateral hiring. That was all based on really great people who wanted to be in a different culture. They wanted to be in a place where the firm is sort of client-first, firm-first, not what P&L am I in, what bonus pool am I in, I better not tell Susie down the hall what I'm chasing because I might have to share credit, a lot of those dysfunctions we know arise from time to time at consulting firms. The quality of the people that joined us then really accelerated the quality of the things we won. We were interim managers of the largest bankruptcy of 2016, and are working on the largest municipal restructuring currently going on.
Consulting: What are the big challenges establishing credibility with a new firm?
Carlile: It's no different than any other business. We started with a level of credibility with clients but every day that's either getting stronger or weaker depending how well you do what you do for your clients. They give you the work and they're watching to see if you can meet their needs. To be honest it's been somewhat surprising how quickly and how well that's gone. We don't win everything, but what we win I think has been even for those of us who thought it was possible it's been a very pleasant surprise.