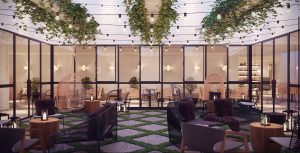 Kimpton Hotels & Resorts debuted the luxury boutique brand's first hotel in Europe to be located in the heart of Amsterdam located near Amsterdam's Centraal Station.
The Kimpton De Witt, which has 274 guest rooms, including signature suites that have private terraces overlooking the city, is set within three original Dutch Golden Age-era buildings in the Palace Quarter neighborhood.
The property strikes a balance of modern luxury and historical elegance, says Mike DeFrino, CEO of Kimpton Hotels & Restaurants. The hotel will honor Kimpton's flair for creating local, experiential dining options with the opening of Wyers Bar & Restaurant, serving American cuisine and cocktails with a European twist, and Miss Louisa Coffee & Beignets, a walk-up counter providing coffee and beignets designed to appeal to both guests and locals, he says.
"Amsterdam is a perfect fit for Kimpton's first European hotel," DeFrino says. "The city is effortless in design, highly diverse, light-hearted and known to be a hotbed of creativity, all of which are pillars of the Kimpton brand."
Kimpton De Witt showcases the brand's thoughtful approach to design and pays tribute to local heritage, marrying the old grandeur of the Dutch Golden Age with new buildings from the late 20th century. The hotel also embraces Kimpton's signature design with a spirited balance of wit and whimsy displayed in details as striking as the 'living wall' of florals and botanicals at the hotel entrance and as subtle as the Delft-inspired tiles paving the bathroom floors, says Mike Robinson, General Manager of Kimpton De Witt. "As with all Kimpton Hotels and Restaurants, guests can expect a truly authentic local feel."
Robinson says Kimpton De Witt's most inventive feature is the three-story 'Little House,' located inside the hotel. The house was once the childhood home of the famous Dutch playwright, P.C. Hooft and dates back to the 1600s. Little House offers two king-sized rooms and a first floor living area, and can be rented by groups interested in a heightened level of privacy and luxury.
Another option for guests is Kimpton De Witt's signature suite, Penthouse De Witt. The penthouse is split over two stories with a 30-square meter roof terrace offering spectacular views of the city, including views of the iconic canal house roof tops.
In addition to Wyers, Kimpton De Witt opened House Bar, featuring local gins. Set in the most historic part of the hotel, a 1645 former family home.
DeFrino says the next European destination is Paris, scheduled to open in 2020, with other destinations in Europe to be announced soon. There are currently over 60 Kimpton hotels and more than 70 restaurants across Europe and the Americas. Kimpton was acquired by InterContinental Hotels Group in 2015.