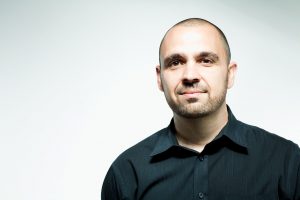 It's not every day that a former graffiti artist makes Partner at PwC. But that's just what happened last year when Juan Morales became the first creative executive in PwC's history to make Partner. He joined PwC through an acquisition four years ago. As Chief Creative Officer, he is tasked with bringing design thinking—and creative talent—into the firm. Morales sat down with Consulting to discuss design, his career path and PwC's Experience Center, a place where PwC's different disciplines come together—tax, accounting, and consulting—to collaborate and solve clients' challenges.
Consulting: Let's start here: How do you go from graffiti artist to PwC Partner?
Morales: Well, I've always had a love and passion for art. When I got to my rebellious age, I guess graffiti was that outlet for me. I developed a real passion for it, and it was more organized than you'd think. I had a group of friends and we'd spend a lot of time discussing the projects and its goals so it was really almost a creative director role all the way back then. Eventually, that passion had to turn into a real job and that's when I started to study design seriously. In university, my graffiti background was helpful when it came to studying graphic design. I began in advertising, but I got to the point where I was sort of looking to put my talents to use for a more meaningful purpose, so when my company was acquired by PwC it was exactly what I was looking for. It definitely wasn't the typical path to Partner, but when I look back I realize all the things happened in the right order for me to end up where I am now.
Consulting: Can you tell me more about your role as PwC's Chief Creative Officer?
Morales: It's sort of a two-sided role. On the client side, I team up with someone from the traditional consulting side to look at a clients' challenges in a different way than we have historically. We're trying to give them a more holistic solution to their problem. On the other side, I'm helping innovate operations and the process of how we work and how to clear a path for the other creative folks to be successful. As a designer, I never dreamed that I'd be redesigning an business' operating model but that's what I'm doing—creating the right environment for creativity to thrive.
Consulting: I would imagine part of your job is also about helping to bring creative talent into the organization.
Morales: Definitely. Bringing that talent into the firm is important, but I'm also making sure the decisions we're making as a firm can attract that type of talent. What I've learned is that there are a lot of creative people out there like me—people looking for a different seat at the table. People who were looking to have their work have more of an impact.
Consulting: Would you say design is still a niche area within PwC?
Morales: No, not at all. We are impacting the firm in so many different ways. We've been brought in to help on tax projects or others that historically had nothing to do with design. Not only does it help PwC help differentiate itself, but it's helping make sure the projects we're putting in place will be implemented. It's the human element—something designers are inherently good at—that helps serve the client. Internally, we're focused on trying to get the non-designers thinking a little differently so they're not always approaching the project from the same angle.
Consulting: How have clients reacted to the offering?
Morales: In the beginning we had to convince some that we hadn't just taken traditional consultants and tried to turn them into designers. We had to show them that this was a completely new offering and new approach. Traditionally, these clients would use consultants for the strategy and then go to an ad agency or a design firm for the execution. That often led to a disconnect in the project. We now work with clients on this end-to-end model and they're more appreciative of the continuation of thought from the idea stage to getting the finished product into someone's hands. There's nothing lost in translation anymore.
Consulting: Do you think design should be more prevalent in business?
Morales: I think it's a big missed opportunity for a lot of companies. I think design creates a natural tension to running a business from a strategic perspective. But if you're not balancing out those strategic decisions with the other side, the people side, it's going to fail. I think it's a big gap in a lot of organizations.
Consulting: Can you talk a little bit more about the Experience Center in terms of its size, scope and growth?
Morales: I can't say much about the revenue growth, but I can tell you that we have over 4,000 people in over 32 different Experience Centers around the world. It's grown both organically and through acquisition and it will surely continue to grow.