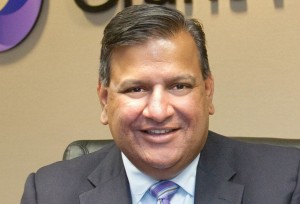 Srikant Sastry Grant Thornton
Excellence in Leadership
Srikant Sastry says he loves what he does—working collaboratively with talented people to solve complex problems. One of the things he enjoys most is the wide range of opportunities to solve important problems for clients, he says.
"It's exciting to address the disruptive forces affecting clients today, and map innovative solutions to meet their needs. Consulting allows us to resolve some of the most vexing issues facing our clients—both in the government and commercial sector," Sastry says. "As we create and implement long-term solutions for them, we help their businesses reach their full potential."
Sastry, the National Managing Principal of Advisory Services, responsible for the planning, coordination and execution of the Grant Thornton's U.S. Advisory business, has been helping clients reach their full potential for more than 25 years.
Sastry says he is proud that Grant Thornton was able to launch its new Advisory 2020 strategy focused on creating, protecting and transforming value for clients.
"What we do in the marketplace is centered on value, and we aligned our organization around three business lines; Transaction Services, Business Risk Services and Business Consulting and Technology," he says. "These three businesses are all aimed at providing end-to-end capabilities for our clients. Our strategy is fueling significant growth, and attracting top talent and clients to our firm."
He has led performance improvement and transformation projects for several entities, including the U.S. Postal Service and the Department of Labor, and also leads the Public Sector practice at the firm. In 2016, the Alexandria Chamber of Commerce named Sastry as Business Leader of the Year.
He says he also drew great satisfaction from recruiting, developing, promoting, and mentoring talented people, and he has been fortunate to have done so throughout his career. "I love the team we've assembled at Grant Thornton. Our success is a product of a lot of highly talented, diverse and motivated people whose leadership and insights deliver tremendous client service and growth," Sastry says. "So, I am really proud of my team and those who I work with here. And, it's exciting the way we are bringing together all of our employees—in the public and commercial sectors—to boldly execute our strategy.
As far as winning a Top 25 award, Sastry says winning an award like this is humbling. "It's special to be recognized for the work I do, and be included among so many dedicated professionals in this field. This award also clearly signals the strength of our growing brand," he says. "It's an honor to get recognized for doing the work I love to do at a firm that is making a real impact in the marketplace for clients."
Q&A: What's been the biggest factor to your success?
Sastry: "It's exciting to step up to a challenge and take smart risks. It's also inspiring when we can rally people toward a common vision to realize and sustain success. A key here is authenticity—being true to myself and encouraging others to do the same."