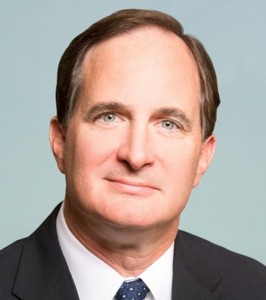 Robert Sydow EY
Excellence in Leadership
Ask Robert Sydow about his greatest accomplishment of the last 12 months and he says that his team was able to start a new business in Managed Security Operations. "We signed up twelve new clients and recognized over $25 million of new business in just six months," he says.
Then ask him about his greatest accomplishment over the course of his entire career and he'll re-visit the team concept he cited above. Sydow adopts the role of servant leader and considers his greatest accomplishment to be the legacy of new EY leaders he has helped develop "not just into great consultants, but into great people," he says. "My greatest achievement has been in developing talent. I have been thrilled by the opportunity to help young people achieve their career objectives."
Sydow is a Principal and Americas Cybersecurity Leader for EY where he has worked with major Fortune 500 companies on all aspects of information security including security strategy and transformation, data protection and privacy, identity and access management, cyber threat management and cyber economics.
Sydow has over 34 years of experience assisting clients in both the implementation and risk management of advanced technologies. He has presented to a variety of audiences on Cyber challenges and solutions including Board of Directors, Industry Analyst and Government officials.
Bob's current responsibilities include the management and operation of the firm's Cybersecurity practice. Cybersecurity provides assessment and security transformation services across all sectors in the Americas. The Cybersecurity practice provides technology advisory risk services to information intensive and regulated industries. Security services include the assessment, testing and improvement of an organization's information applications, processes, organization and technologies.
What does he enjoy most about the consulting profession?
"The variety of roles and assignments I've taken on has really made my career interesting," he says. "I get a chance to see so many different client situations. It's very rewarding to help a client achieve its objectives and exceed its expectations of what is possible."
Sydow says he learned early in life that being a good listener was really important. Understanding others and being sensitive to their thoughts and feelings has really been a key to his success.
That success has resulted in a few external accolades. One, it would be tough to think Sydow isn't largely responsible for an increase in stature for EY's Cybersecurity practice, which has moved all the way up to No. 4 in Cybersecurity Ventures' 2017 list of the top 500 Cybersecurity practices.
And two, Sydow is now a Top 25 Consultant. "While it provides some recognition of my career, it is most gratifying to see how I stack up against others in our profession," Sydow says. "It also confirms for my clients that I have the necessary skills and experience to help them and that I have been recognized by my peers as being in the top tier of my profession."
Q&A: What motivates you to excel?
Sydow: "My career has given me great opportunities to compete with some of the world's best consultants and consulting firms—and I love to compete."