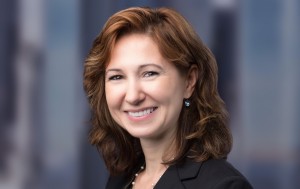 Violetka Dirlea A.T. Kearney
Excellence in Client Service
Violetka Dirlea is a Partner with A.T. Kearney. She has extensive experience across the entire value chain working with clients on large-scale Profitability Improvement programs, Competitive Analysis, Strategy and Operating Model development, Quality Transformations, Procurement, and Supply Chain Optimization among others. Her clients are in multiple industries and sectors including automotive, industrials, defense, energy, and others.
Colleagues say she has been an important strategic partner to the firm as A.T. Kearney has redefined its business strategy, ramped up its project execution and significantly improved its profitability during the last years of economic pressure.
Ask her what she's most proud of over the last 12 months and she says she continues to be proud of the impact A.T. Kearney teams are having with its clients thus driving their success.
"Over the last year, we have served new and multi-year global clients with the commitment and dedication that has enabled them to achieve a higher level of performance," Dirlea says. "I am proud of the large-scale transformation efforts that we have executed over the years and the long-term changes in our clients' businesses, including profitability improvements, quality transformations, strategy changes, and supply chain optimizations among others. I am proud of the reputation we have built as trustworthy, results-oriented, honest, dedicated, and caring."
Dirlea, an active thought leader and publisher, is co-author of the book Masters of Innovation, says over the last 12 months she has seen her relationships with long-term clients and colleagues become even more meaningful in a changing and tumultuous business environment. "I love the variety and the opportunity to meet outstanding people," she says.
Others have said that Dirlea is one of A.T. Kearney's top global client service partners and exemplifies the highest values and attributes of the firm's client philosophy: unwavering dedication to its clients' success and relentless pursuit of excellence in achieving their goals. She has developed many multi-year clients, demonstrating the trust clients have placed in her and her ability to achieve groundbreaking results for them.
One client went so far as to say that with Dirlea, "I feel confident that my company is always current on the latest trends, successes, and benchmarks. She has created the relationship trust in such a way that she and her company are seen as a valued part of our team." High praise, indeed.
And what would she say has been the biggest factor to her success? "There are probably a few factors including persistence, hard work, and genuine interest in people," she says. "I have a desire to see great people be successful and recognized."
All of this has led Dirlea to a Top 25 Consultants award.
"Consulting is not an easy profession. But it is very motivating to see recognition that my efforts to provide great customer service are appreciated," she says.
Q&A: What motivates you to excel?
Direly: "I would like my children to have a positive example of hard work, persistence, and belief that everything one puts her or his mind to is possible."