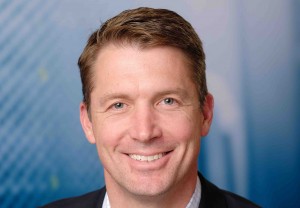 Jim Bramblet Cognizant
Excellence in Client Service
Jim Bramblet brings more than 20 years of management consulting experience in the Insurance Industry. A thought leader, he has worked in an advisory capacity with top insurance executives across the globe, solving strategic issues and helping streamline operations. He has also led large transformational programs across Agency, Policy, Underwriting and Claims programs. He is particularly adept at working at the intersection of technology and operations to improve performance and create new business models.
"Having been in this business for many years, the achievements I'm most proud of fall into two categories. First are the strong, long-lasting relationships I've developed with clients over the years," he says. "I believe that by building and maintaining client trust and continually adding value, my clients have prospered, as has Cognizant."
Second, he says, is the success in driving large transformations, frequently involving as many as 15,000 to 30,000 people. "I typically start with Operating Model Design to help clients conceptualize before implementing real business transformation, he says. "My clients have experienced significant measurable business impact with 16 percent to 25 percent efficiency gains through automation and skill-level modifications.
And his expertise has gone a long way to not only polishing his personal brand, but Cognizant's as well. "Our thought leadership, industry insights and digital solutions have enabled us to enhance the perception our clients have about who Cognizant is and how we can help them win in the marketplace," he says. As a result, Cognizant is being invited to new and different types of discussions and winning engagements that address more complex challenges, especially as clients work through the digital transformation process.
Bramblet says he likes the intellectual challenge, tackling seemingly insurmountable problems and being at the forefront of the insurance industry. "I enjoy helping our clients meet their challenges—seeing them succeed for their organizations, their stakeholders and themselves," he says. The key to my success is the ability to listen to and understand a client's needs, and being able to partner with them to build a common vision. I've been told I bring out the best in clients and in our people through diversity of thought and effective collaboration."
For example, Bramblet and his team recently helped a traditional insurer that wanted to attract the "digitally native" millennial generation. Partnering with them, Cognizant developed and launched an entirely new product that was end-to-end digitally delivered.
"After spending years in the industry, I understand the critical role insurance plays in the lives of people and companies," he says. " Insurance is the linchpin of a stable and prosperous society, restoring individuals and organizations to some level of comfort and safety after they've suffered a loss or trauma. It's inspiring to help our clients succeed in this mission."
Q&A: What does winning the Top 25 award mean to you, your firm and your clients?
Bramblet: "For our clients, it's a testament to the success of their continued efforts to improve. For Cognizant, it validates that we're on the right track in how we work with clients and support the industry. For me, it's a personal validation that I'm making a positive difference for our clients and their customers."