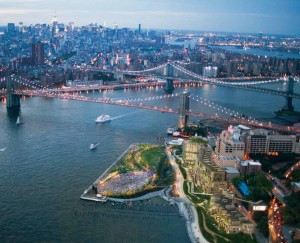 Property features reclaimed materials, recycled rainwater and 100% wind power
1 Hotels, the luxury lifestyle hotel brand founded by Starwood Capital Chairman and CEO Barry Sternlicht, opened its third property and first completely ground-up development, 1 Hotel Brooklyn Bridge.
The property is the mission-driven brand's first sustainable, ground-up development and flagship property. "The world around us is beautiful, and we want to keep it that way," Sternlicht says. The property cultivates the best of eco-conscious design, sustainable architecture, cause-oriented partnerships, and unrivaled service.
1 Hotels, which launched in 2015 with the opening of properties in Miami's South Beach and Manhattan's Central Park, is inspired by a simple idea: Those that travel the world also care about it. The property, located just south of the Brooklyn Bridge, in Brooklyn Bridge Park features 194 guest rooms, including 29 two- to six-bedroom suites and The Riverhouse, its Presidential Suite, with most rooms offering views of the East River, the Brooklyn Bridge and the New York City skyline.
Confronted with how far Americans were lagging behind in changing our consumption habits, Sternlicht says he created 1 Hotels to show sophisticated travelers that they can do good, live well, and connect with both the world and the community around them. "With the opening of 1 Hotel Brooklyn Bridge, my vision is now realized," he says. "We were able to select every material and develop mindfully, yet the space's main purpose remains to serve, entertain and inspire with some of the best amenities found in the New York hospitality market."
The 10-story hotel occupies Pier 1 in Brooklyn Bridge Park, an 85-acre beautification project that stretches 1.3 miles along the East River waterfront. The hotel project originally began in late-2011, however when Hurricane Sandy hit the East Coast in 2012, 1 Hotel's architectural drawings for the Brooklyn Bridge property had just been completed.
Committed to sustainability and preserving the environment, 1 Hotel Brooklyn Bridge was built under LEED guidelines and underscores the following efforts:
• The design of the hotel features a 54 percent ratio of regional and reclaimed materials, including original heart pine beams from the former Domino Sugar Factory, walnut from the Brooklyn Botanical Gardens and pine flooring from the Old Crow Distillery in Kentucky.
• 1 Hotel Brooklyn Bridge operates a rain-water reclamation system that will reduce storm water runoff into neighboring water streams by more than 50 percent prior to the site development. The water will irrigate the park during summer months.
• The property uses 100 percent wind power energy.
• The hotel will eventually boast a LEED Dynamic Plaque, which will measure and display the building's eco-conscious practices in real time.
• The hotel features low-energy light bulbs, a Triple Clear water purification system, in-room recycling bins, and fresh dining offerings.