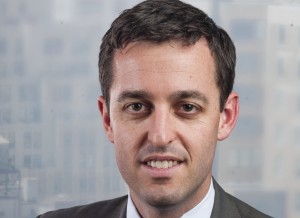 Drew Cawthorne
EY Excellence in Financial Services Age: 33
When the stakes are at their highest, Drew Cawthorne is at his best. By building trusted relationships, he leads teams that rally together to solve the most complex challenges.
Cawthorne came to EY right out of school joining the EY Charlotte Financial Services Office as it was being built from the ground up. Twelve years later, as a newly promoted Principal, he attributes much of his success to mentors who not only built the Charlotte FSO, but have advanced to senior EY positions.
"There are several achievements that led to my promotion, including seeing several people I helped hire be promoted and guiding them through important career milestones," he says. In addition, "rallying a cross-service-line team to help my primary client overcome adverse regulatory feedback and build leading capabilities."
Just a few years after he joined EY, the financial crisis hit and Cawthorne was there to help every step of the way and was tapped to lead several headline risk situations. He was able to do this, not just through his extraordinary skills and strategic sensibility, but because his clients and team trusted him.
What excites him most "is our exceptionally talented, capable, diverse and inclusive team at EY. It makes me eager to come to work each day to help our clients solve their most complex problems," Cawthorne says. "We are at a pivotal point in the financial services industry, with tremendously disruptive change—the opportunity ahead of us as a consulting industry is truly exciting."
Cawthorne says it's an honor to be recognized among such an esteemed group. "We should take the recognition as a call to action to start tomorrow on identifying and promoting the next class of Rising Stars."