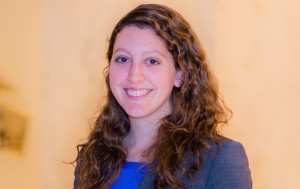 Christina Tierno
Arc Aspicio Excellence in Strategy Consulting Age: 32
Christina Tierno leads high visibility Government projects for homeland security and emergency management clients. With strategic planning as her primary focus, Tierno uses design thinking, project management skills, and in-depth operational knowledge to devise solutions to Government clients' most difficult challenges.
Over the past two years, Tierno, Design Thinking Practice Lead and Senior Manager at Arc Aspicio, helped expand the firm's strategy consulting line of business and designed and created a Strategy Innovation Lab that focuses on innovation and helps provide exceptional solutions to clients.
More recently, as the lead of the firm's Design Thinking Practice, she says she is very proud of honing her Design Thinking problem solving skills and applying them to homeland security challenges with a specific focus on emergency management.
Design Thinking is customer-centric and collaborative and can help solve tough challenges where other techniques failed, she says.
"I recently applied strategy and design thinking to a mission-critical strategic foresight project, researching the ways the world is expected to change over the next 20 years, engaging with emergency management professionals, and thinking through how organizations may need to adapt to cope with our rapidly changing world," she says. "Leading this team to success and supporting the team members in their professional development goals is one of my greatest achievements."
Tierno says a huge part of her focus now is helping her coworkers and clients reach their potential by embracing design thinking and innovation. "I helped found the Strategy Innovation Lab (SILab) at Arc Aspicio," Tierno says. "The SILab is a knowledge hub that includes our methods and accelerators, mission knowledge base, and provides access to our strategy and mission experts. I enjoy encountering difficult challenges and coming up with innovative solutions."
As far as winning the award, "being recognized along with all of these other accomplished consultants is humbling," Tierno says. "I am extremely grateful to be recognized for my work."