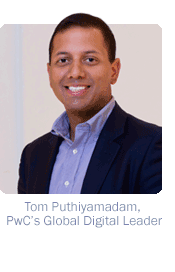 Over the last decade we've seen the emergence of technologies that transform the way business gets done. Another shift is underway through using advanced robotics, like Internet of Things (IoT) and Artificial Intelligence (AI) in a way that ripples all the way down to employees in the field, empowering the individual to work better and more efficiently. We caught up with Tom Puthiyamadam, PwC's Global Digital Leader, to walk us through some of these big changes and the increasing prominence of robotic intelligence in consulting.
Consulting: What are some of the most significant technologies that are transforming business this year?
Puthiyamadam: I think a big trend recently across many of our clients and companies out there is the adoption of Internet of Things (IoT). The last 2-3 years has been purely experimental but now it's being adopted for all types of needs, even things that surprise me. We're working with a big gaming company right now that has little gambling machines across all these different convenience stores and bodegas. Of all people, the CFO came forward and said I'm having a real problem understanding some of the financial accounting and taxation that comes with the process of these machines because I can't get data off of them. So we're using IoT technologies with a couple of our alliance partners to build the connected gaming machine and on top of that using new network technology to collect that data on a daily basis, providing the CFO daily revenue reporting and data to understand how taxation should work. Nobody was talking about this a year or two ago, we were just toying with it. But the application of IoT into finance, operations and even customer experience is becoming so much more prevalent that we actually have real use cases driving business value rather than just the laboratory excitement before.
Consulting: How do you see IoT transforming the workplace?
Puthiyamadam: If we're going to get value and change the way people behave, the trend now is not just using IoT and the data it pumps out to provide management information as to how they can better run the business, extract more revenue and understand performance. I think that I'd coin as Big Decisions. We're helping companies use IoT to manage big decisions. That's good, that's fine, but is that really impacting the employee? Is that impacting you or me if we're working in the field? Not enough. We've got to be able to use these data to change the way people work, make them more productive. If we can't do that, all we've done is create great reporting, great visibility and some better Big Decision making at a VP level SVP level and so-forth. Having better dashboards is meaningless, one that could actually tell me something insightful I should do differently is a turning point we need to make in order to drive real productivity using IoT technology.
Consulting: How well are clients adapting to this how much hand-holding is needed?
Puthiyamadam: I would say tremendous. Our clients are running in silos. When you see most of our clients, it could be the technology office playing with this technology and creating some fantastic new informational dashboard. But there's really no one in the business trying to understand what you're going to do with it. That's a problem. There's thousands of employees who want to do a better job every day but are not given the technology to go make that better decision. So one, our clients don't have the talent to begin with. And two, if they do, it exists in hard silos that aren't able to work in this new model we refer to as the BXT model. How do you bring technologists, business leaders and designers together to solve these problems. I think our clients and companies need a massive amount of help in each of those areas. Acquiring better talent, finding a better way to work, and focusing the experience you're trying to create to the people who need the information and technology to do better.
Consulting: What consulting opportunities do you see arising from increased use of IoT and Artificial Intelligence?
Puthiyamadam: Some of the big opportunities out there, the trends I see, one would be how to use digital technology to transform your cost structure. We had a call with a big auto manufacturer and talking about how we can transform cost for the company, looking at sales, layers, org model, sourcing and so forth. All the normal stuff for you to do. But I think we were missing the point, I don't want to do that, I want to use Robotic Process Automation (RPA) and drive full automation, I'm not looking for offshore models. So we're seeing our clients looking to the next wave of digital-driven cost transformation, using AI and IoT to remake the cost structure for our client.
Consulting: What are some of the big hurdles companies face implementing these new technologies?
Puthiyamadam: Lack of executive awareness and confidence is number one. We're still dealing with executive C-suites from the old guard and a lot of these technologies are too difficult for them to consume. With that, can uninformed investors make good decisions? Second is companies coming forward saying they have a massive shortage of talent that knows how to bring business experience and technology together to actually drive these types of changes and work in this new way. We're dealing with a bit of a shiny toy factor where this is the new topic, this is the new thing, but if we don't drive big time business results out of these investments, I do believe our clients will continue to move at a slower pace and more judiciously on their investment if we cant take this emerging technology and digital revolution topic into a place that drives real financial return.