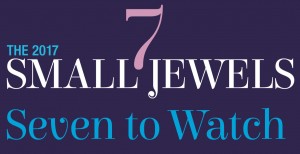 As you might imagine, Consulting magazine receives hundreds of nominations for just Seven Small Jewels. As a result, there are many, many very good firms left on the outside looking in. Several of these firms stood out in the eyes of our editorial selection committee, but for one reason or another, didn't make the final cut. However, we felt like these excellent firms needed to be on the radar, too. So, we've cleaned up the cutting room floor to present this year's Seven to Watch list for 2017. We'll keep an eye on them, and we recommend you do the same.
1. 1Rivet
1 Rivet launched back in 2005 as SIC Consulting when it was focused in the telecom and e-commerce sectors, and it secured AOL as its very first client. A lot's happened since then and then the company really began to hit its stride a few years go. Last year the Reston, Va.-based IT firm focused mainly on Financial Services and banking sectors, grew at 67 percent and significantly increased its staff. That type of growth didn't go unnoticed as 1 Rivet was recognized in Inc. Magazine's 5000 List of America's Fastest Growing Companies and was ranked No. 27 in Consulting magazine's list of Fastest Growing Firms with a three-year growth rate of 137 percent.
2. Breo Solutions
Denver-based Breo Solutions is driven to help Colorado's leading organizations succeed; delivering impactful results by providing management consulting services to clients across a wide range of industries. The IT and Operations Management firm partners with clients to understand their unique challenges, develop right-sized strategies and apply its extensive experience to help companies accomplish their most important goals. Breo, which was launched in 2012 and has steadily grown staff size, grew revenue some 38 percent last year and is well on its way to becoming a significant player, all while remaining committed to its clients, culture, and community, says Graeme Strachan, CEO.
3. ImagineX Consulting
ImagineX Consulting is a business and technology consulting firm with the goal of helping clients transform their business by embracing emerging technologies such as cloud, information security and mobile. It's working, for sure. The firm, which wasn't launched until 2015 is off to a great start and experienced very significant growth in both headcount and revenue in 2016. The Denver-based firm's execution success is rooted in its local model that is supported by industry specialists driving higher-quality solutions to market earlier, says Dan Wheeler, Founder and Managing Partner. The firm has additional offices in Atlanta, Washington, DC, Raleigh, N.C. and Toronto.
4. Knowledge Capital Group
Knowledge Capital Group (KCG) is a niche, boutique consulting firm that helps organizations create value and drive performance through a highly-engaged, data-driven and direct approach. KCG partners with a variety of companies and organizations throughout several industry verticals and geographic locations. The Charleston, S.C.-based strategy firm typically works with clients in three primary practice areas: healthcare, nonprofits and private businesses. The firm grew at an astounding 109 percent clip last year and another year of that type of growth will go a long way to securing a spot as one of next year's Seven Small Jewels.
5. Maine Pointe
Maine Pointe was founded in 2004 as a result of the simple observation that senior executives and private equity firms needed specialists to help them drive measurable operational improvements, fast. To achieve this, Steve Bowen, Chairman and CEO, invested in building a results-driven implementation firm that was underpinned with a culture and set of values clients could trust, he says. Today, Maine Pointe is a Boston-based firm recognized as a specialist in driving EBITDA and cash improvements across the areas of procurement, operations and logistics. The Operations Management firm enjoyed 28 percent revenue growth last year.
6. Pozieres Consulting
Pozières Consulting is a Copenhagen-based political risk advisory firm, providing bespoke analysis and business intelligence through its worldwide network of analysts and sources. Utilizing a combination of in-depth thematic research, innovative analytic tools and tailored business intelligence gathering, working with clients to identify, analyze and contextualize strategic political risks and turn them into tangible, actionable business insights. The firm creates a framework for its clients to successfully navigate through the turbulent confluence of business and politics. Pozieres, which focuses on the Financial Services and Strategy service lines, is still relatively small but a 106 percent growth rate is impressive at any size.
7. SIE Consulting Group
Dave Harrington and Mike Kearns launched SIE Consulting Group as seasoned public and private sector management consultants, having worked for consulting companies large and small, helping organizations address their acquisition-related challenges. With years of experience, they began to notice what separated successful projects from those that failed: expertise and empowerment. The IT, Strategy and Financial Consulting firm focused on the Federal Government had an impressive 2016 when the two-year old firm managed an astounding 248 percent growth rate.