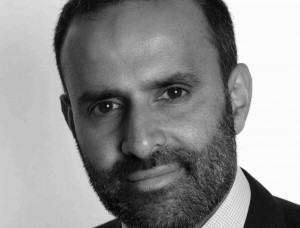 Ismail Amla is Managing Partner, IBM Global Services, North America, IBM's professional services division and the world's largest consulting organization. In this capacity, Amla sets the strategic direction of the GBS team—the first cognitive consulting practice—as it engages with corporations, government agencies and educational institutions. He joined IBM because it was a place where he'd have an opportunity to make a meaningful impact on the world. Eight months in, he's well on his way. Consulting recently caught up with Amla.
Consulting: Can you talk a bit about the transition to IBM and what you've been up to since arriving eight months ago?
Amla: After leaving my former firm, I had planned to take a full year off. Well, to make a long story short, that year only lasted about seven months and then IBM called. Three weeks later, I began at IBM I am a big believer that technology is going to proportionally affect the world and I think IBM will play a disproportionate part of that transition. It was a good time for me to join because IBM is going through its own transition journey where we're positioning ourselves as the service provider for the new cognitive world, which was a perfect fit for what I wanted to do. Here, I thought there was an opportunity to do something that had a real meaningful impact on the world. The capabilities within IBM—the research lab, Watson, data, the cognitive, the acquisitions we've made—have been so much more than I anticipated. There's been a $30 billion investment in the new world and I've had the chance to see it up close and personal. It's very impressive.
Consulting: How have you spent your time at IBM thus far?
Amla: I've been focusing across the business trying to understand the huge client imperative across each industry to ensure that we can put a transformational journey in place to align where industries and clients are going and where we think technology will intersect with that. I've spent a lot of that time meeting clients and understanding what their business imperatives are and the message has been clear—they expect IBM to do some of the most complex, mission critical work because that's what IBM's done for 100 years. I've also spent a lot of time getting to know our staff across North America just to try to get an understanding of where we are in terms of culture, capability and what we should be fine-tuning based on where we think the markets are going.
Consulting: Where are they going?
Amla: Well, we think whoever can digitize and then use machines to augment the understanding of the data—people call it artificial intelligence, machine learning etc.—then provide customized services to a very specific customer, whether it's a consumer, a retail client or a banking client, will be the firm that wins competitively. Customers are asking us how they can take advantage of their data and, more importantly, how they can learn from that data to make better decisions. That's the world we're preparing for, the cognitive world. How do you get competitive advantage from data? Not everyone has been able to answer that question, but everybody is talking about it, for sure.
Consulting: Have we gotten to the point where clients are able to take advantage of the data in a meaningful way?
Amla: We absolutely have. General Motors announced something with IBM where they talked about having Watson in the dashboard of the car and picking up data about the car, the driver, the location and making that data available not only to General Motors but also the partners of General Motors. Somebody needs to pick up a prescription, for instance, and the car dashboard facilitates that. Another example is the work we're doing with Sloan Kettering. IBM and Sloan Kettering are working together to be able to bring intelligence and data about cancer, diagnosis and treatment, for instance, and share it with hospitals around the world. So a hospital in China, Thailand or India, would be able to tap into the power of Sloan Kettering. This is very powerful, and that's what I mean about IBM being a place to make real impact.
Consulting: You've mentioned a few industries; which sectors are you particularly excited about right now?
Amla: All of them. Take a sector like Media & Entertainment, for instance. How will the overall fan experience change as a result of an event organizer having access to individualized and customizable data for a specific fan? How does that change the experience they can offer that one fan, or all fans. Then you can look at a different sector, the federal government, and find all kinds of uses when it comes to AI or machine learning to detect threats in airports, for example. This cognitive learning is everywhere—and everywhere we look industries are being restructured and completely transformed because of it.
Consulting: What excites you the most about the opportunity ahead of you?
Amla: What excites me is the permission IBM has, if you will, to go into organizations that are going through these transformations and being able to tell them that we can effect real change for them. In a lot of cases we are already running their systems, which gives us access to be able to make the kind of impact I've never really seen before anywhere or anytime in my career. Also, our own people are a huge part of that. We have top talent in the industry and we need to stay diligent. As I said, we are going through a huge transformation. Can we get enough people with truly transformational skills into the fold? We need those people to serve clients and support our growth goals.
Consulting: What are your growth goals?
Amla: It's difficult to share specifics about growth, but what I would say is different industries are growing at different rates from a services perspective. We are positioning ourselves to make sure that we take our share. The other big goal we have is to make sure that IBM is the employer of choice. This has to be the place where the smartest people in the world, those looking to make the biggest impact, want to work. That is a huge focus for me right now and will be going forward.