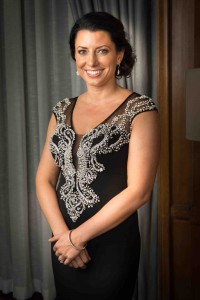 Heather Reilly Principal, Deloitte Consulting
Future Leader
Heather Reilly is a principal in Deloitte's National Security Sector. She has more than 16 years of professional experience, with the last 12 years supporting over seven components within the Department of Homeland Security. She is the Lead Client Service Partner for the U.S. Customs and Border Protection and the U.S. Citizenship and Immigration Services. In this capacity, she leads delivery teams that focus on enhancing border security, facilitating trade and travel and improving lawful immigration to the United States through improved technology, processes and strategy. She expanded the practice by over 400 percent over the past three years despite a difficult market environment while growing revenues and improving profitability.
"There are so many aspects of Consulting that I love—the fast pace, the ever changing landscape, the amazing client missions that I get to support. But, if I had to boil it down, I would say first and foremost it's about the people," Reilly says. "Every day, I have the opportunity to work side by side with colleagues and clients that are doing their very best to make our country more secure. Good people with brilliant minds that are solving some really tough issues for our country."
Reilly has worked with the Department of Homeland Security since its inception, and the breadth and importance of their mission is unprecedented, she says. "The fact that I have the opportunity to help our clients develop new solutions for border security, or develop strategies to implement immigration policy or advance ground breaking technologies to help catch the bad guys—for me, that's the coolest job ever," Reilly says. "My clients' work 24×7 and rarely get the appreciation they deserve for protecting us every day. It's my honor and privilege to work side by side with them, and to help make their jobs a little easier."
Her extraordinary efforts have resulted in Reilly being recognized as a Woman Leader in Consulting. "When one of my fellow female partners found out I won this award she texted me and said, 'Proud to be in your orbit.' That meant a lot to me," she says. "We have to be proud and supportive of each other, and I truly believe that she, and so many other great woman in my firm equally deserve this award. I have been given the opportunity to represent all of them."
Consulting: What is your greatest personal or professional achievement?
Reilly: "At the risk of sounding too cliché, my biggest personal achievement is my relationship with my family. I have a husband that also works full time and an eleven-year old daughter and nine-year old son. I have read so many articles over the years asking the question of whether working women can have it all. While I don't know if anyone will ever 'have it all,' I can clearly say that I am happy with where I am in both my career and my home life. I get to be on the softball field with my daughter, help my son with his homework and most nights am home to make dinner. It definitely doesn't come easy and often takes making hard choices, but I am lucky to have a supportive husband, a great firm in Deloitte that truly values work life fit. I've also had great mentors along the way who taught me how to make the "ask" for help when needed, or respectfully say no when necessary."