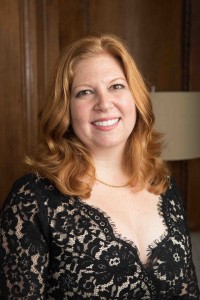 Leah Ralph Principal, L.E.K. Consulting
Future Leader
Helping clients achieve their mission and objectives is exceptionally rewarding, particularly when those objectives are centered around improving medical care, says Leah Ralph, a Principal in L.E.K. Consulting's San Francisco office.
"Day to day it's the challenge and diversity of consulting that keep me going. I love the challenge of solving tough and important questions for clients that are critical to their business," Ralph says. "The opportunity to work on a broad range of issues keeps me intellectually stimulated—there is never a boring day!"
From her first project identifying opportunities for reformulations of antibiotics, Ralph says she saw the importance and appeal of this work. "You had to tie the underlying science to clinical applications while layering in the commercial components to produce a viable business solution," she says. "It felt like putting a puzzle together."
Ralph joined L.E.K. Consulting in 2003 and is a member of the North American Life Sciences practice. Over the course of her career, she has worked on a diverse set of more than 100 consulting cases across the biotech, pharmaceutical, diagnostic and medical device industries.
Ralph says she loves the collaborative nature of consulting, and delivering solid results for clients requires having a strong team working together. "It is incredibly rewarding to see those who I've worked closely with excel and grow at L.E.K. or move on to other amazing endeavors," she says. "I owe a lot to those who have helped me grow over the years and I appreciate being able to continue the chain and pass along what I have learned."
With a B.A. in Molecular Biology and Biochemistry from Wesleyan University and a M.B.A. from the Kellogg School of Management, Ralph combines technical expertise with business acumen to serve clients across the life sciences industry.
As an undergrad with a molecular biology degree, Ralph says she wasn't convinced that the standard paths of research or medicine were right for her. Finding an alternative way to apply her science interest seemed like a smart plan before committing herself to another four years of school. "I came across consulting, and while in retrospect I didn't have a great understanding of exactly what consultants did, the concept of being a problem solver for companies working on scientific innovation was appealing," Ralph says. "It seemed like a perfect way to get my feet wet in the business world while still keeping some ties to my educational background."
And now, she's a Women Leader in Consulting award recipient. "After committing the bulk of my career to this field, it is truly an honor to be recognized," Ralph says. "Building a long-term career in consulting has not always been easy, but the satisfaction and enjoyment have made it impossible for me to leave."
Consulting: What's the best advice (consulting or otherwise) you've ever received?
Ralph: "It seems simple, but 'put yourself in the clients shoes.' Adding value is not about fancy analytics or slick PowerPoint slides. Those things may be important but they are just support. Unpacking the underlying goals and second (and third) order questions is critical to truly becoming an advisor to clients. Being an analytical thinker with a science background it's easy for me to get tunnel-vision on a list of questions in a proposal. This advice helped reorient from a pure analyst mindset toward a leadership role in client services."