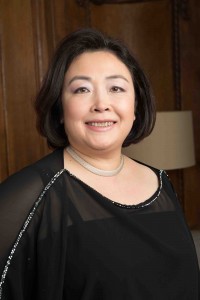 Carol Liao Senior Partner, Managing Director, The Boston Consulting Group
Leadership
Carol Liao is a Senior Partner of The Boston Consulting Group and, since 2013, the Managing Director of its Greater China operation. Growing up in China, her path to BCG's Hong Kong office was anything but typical.
A graduate from Beijing University in the early 1990s, Liao says there was no concept of career planning in China. The Chinese government was responsible for giving every graduate a job, so as graduation neared, she was assigned to a large state-owned enterprise, and her job was going to be an extension of what she studied in school—commercial law.
P&G held a job fair at Beijing University around the same time, which Liao attended when curiosity got the best of her. "To my surprise, they extended me an offer. I accepted it because, being born and raised in Beijing, I wanted to see more of the outside world," Liao says. "My family and friends couldn't believe I gave up an 'iron rice bowl' job—in my field no less—to "go sell shampoo" in Guangzhou. Looking back, P&G gave me invaluable training and experience for which I am very grateful."
She was still restless a few years later when an experienced consultant suggested consulting. Liao interviewed many places and chose BCG "because the interviewers seemed very knowledgeable and personable. I liked the company culture very much," she says.
Within BCG, she has also led BCG's Consumer and Retail practice in Asia and has experience advising both multinational corporations and Asian companies on an array of strategy, operational and organizational issues. She is a coauthor of the BCG book The $10 Trillion Prize: Capturing the Newly Affluent in China and India.
Although she admits she didn't really know what she was getting into, she's discovered that the process of learning and problem solving is what she enjoys most. "That is what has kept me in this industry for more than 20 years," she says. "Another thing I really enjoy about the work is that you come into contact with incredible young talent. I have the opportunity to work with new recruits every day and see them grow, bringing new ideas and insights into our industry. This is something that gives me tremendous satisfaction."
Another thing that gives her satisfaction is following in the footsteps of the other outstanding BCG women who have won a Women Leaders in Consulting award. "Our goal is to provide the very best solutions and service to our clients, developed and delivered by a diverse, multi-talented team," Liao says. "This award is a collective achievement and a clear signal to talented and ambitious young women and men that gender and birthplace are no barriers to a successful career at BCG."
Consulting: What is your greatest personal or professional achievement?
Liao: "I often get a sense of accomplishment from the recognition that our clients receive on their performance improvement. But since I've been responsible for BCG Greater China, my greatest sense of achievement has come from the opportunity to see many young consultants become partners and experts. I'm very proud to have watched 15 of my Chinese colleagues become BCG partners over the past three years, nine of whom are very accomplished women. In the firm's annual employee survey, Greater China boasts the highest score by a wide margin on effort to recruit and retain women."