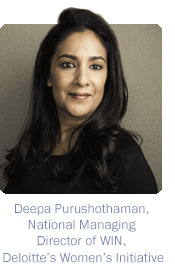 Traditional workplace and family dynamic norms are changing rapidly. More men are looking to take a hands-on role at home after the birth of a child than ever before, and the generational shift in the workplace means more younger workers will be taking care of their aging parents. In response to these changes, Deloitte has announced a sweeping new Family Leave Program that gives workers up to 16 weeks of paid leave for everything ranging from childbirth to caring for aging parents or grandparents to taking care of a sick spouse or child. It's a dramatic shift in longstanding paid leave policies and the first of its kind for professional services. Consulting caught up with Deepa Purushothaman, National Managing Director of WIN, Deloitte's Women's Initiative to discuss the new program.
Consulting: How did the new family leave program come to be and why did Deloitte take the lead?
Purushothaman: It came about in a number of ways. We don't have a product in consulting—our product is our people—so we're making sure they're well taken care of and that we're hearing about their needs. From a business perspective, we believe this is a business issue we have to solve, because when we solve for it we're going to be able to attract and retain the best people. In June, around Father's Day, we did a parental survey. A lot of the feedback that came through that research suggested strongly that leave and caregiving were huge issues that affected a lot of people. Those two things happening together led us to want to really make a difference in the space, so people could be their best selves at home, which allows them to be their best selves at work, and that this was a growing issue not just for our women but for our men, too. The need to take care of not only our children but our parents, those issues are increasing for our generation, and so we really thought it was important to put something out there that was in the best interest of our people.
Consulting: Who is eligible for this paid leave?
Purushothaman: It covers everything; it's generation and gender neutral. I don't know of many policies that truly do that. This is game changing, and the fact that you can use it for so many different things allows for greater flexibility. We got so many notes from our people when this policy came out, hundreds and hundreds of emails. The ones that were fascinating to me were the ones from people who don't necessarily have children or aren't necessarily in a situation where they're taking care of a family member yet. But the fact that this creates a window or a possibility, it's sort of like a safety blanket for when and if this comes up. I've been here for 16 years and I think it's one of the most amazing things we've done because it touches everybody. And I think this is a policy we've talked about in a lot of different ways and we decided to be bold. This is a national conversation that is growing, and we decided we wanted to be in front of that and show what it meant to be a leader.
Consulting: What's so different about this program compared to industry standard?
Purushothaman: The fact that it's 16 weeks, the fact that it's applicable to men and women, the fact that it's not just for childcare issues like adopting or having a child but it's for caring for a parent, spouse, significant other, it can be used in a variety of ways. The flexibility around it is very different. I think it's the length of it and the flexibility of it that make it truly successful. Our generation is the first generation who is going to have to take care of our parents at the same time we take care of our children. Part of what this policy is also about is that the workplace is evolving and changing and becoming more multigenerational. What makes it so game changing is that it's not just for if you've had a child or are adopting a child. This is truly any family member in a situation that requires you to play a caregiving role.
Consulting: Is this something you expect other firms to follow suit on?
Purushothaman: I would love to see them follow suit. I think this is important not just for us but for all people working in our profession. This is something we're all working on and I think this type of issue is where we all need to come together for all the people that work in our industry to make sure we all get the best and the brightest.
Consulting: What's been the reaction internally?
Purushothaman: The excitement around it is palpable. The fact that people aren't even in this situation and feel like we're caring about a future potential issue makes them feel cared for, it shows we're putting our money where our mouth is when it comes to wellbeing and being able to have that balance of home and work. I think it'll have a huge impact in getting both men and women to stay in the workforce and not leave when things come up at home. We think caregiving is truly an evolving issue in the US economy, and we think that when people are unique and have different needs throughout their life as they go through different life experiences. We've managed to embrace that, understand that and support our people at all phases of their life, both at work and at home.