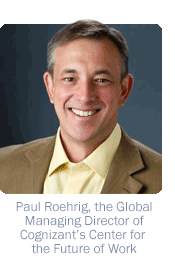 The impact of the digitization of the workforce has been nothing short of resounding. Everything, from how data is collected and analyzed to how work itself gets done is rapidly changing, and no industry is unaffected. Cognizant recently surveyed more than 2,000 global top executives for a unique look into the changing landscape of work in the digital era, producing a report called The Work Ahead. Nearly every respondent agrees that jobs and required skills will be significantly impacted by digital transformation. Consulting caught up with Paul Roehrig, the Global Managing Director of Cognizant's Center for the Future of Work, to talk about how digital will continue to shift the business world beneath our feet.
Consulting: How will the emerging digital economy change work as we know it?
Roehrig: In looking at the results of The Work Ahead holistically, there are a few themes that emerge. First, we may think we understand "digital" and how big it's going to be, but frankly we don't. Executives we surveyed expect new technologies to impact about $770 billion in revenue per year. We found that the impact of digital transformation on these industries between 2015 and 2018 alone could be up to $20 trillion. We also learned that AI is no longer in the laboratory. We found that virtually every business leader, from every corner of the world, recognizes that AI, coupled with big data and analytics, will be the number one driver of business change over the next three years.
Consulting: How has AI already been integrated into the workplace and how will it continue to?
Roehrig: AI is already at the core of experiences many of us have every day. It's how we book a car through Uber, or arrange a hotel room through Hotel Tonight, or engage with Alexa to play the music we want. What's beginning to happen, and what will accelerate over the coming years, is that AI will be applied more to work that matters—how we bank, how we insure our families, how we educate our children, and so on. We can already see this happening. Many of the top hedge funds in the US are essentially run by AI algorithms. These systems of intelligence are already winning in picking investments. In healthcare, AI software is helping doctors improve diagnostics. AI is also helping lawyers conduct due diligence better, faster, and cheaper. This is amazing progress, but we're still in the early days. There is no doubt now that we are entering into the digital economy where our "new machines" are comprised of AI, algorithms, big data, and bots. The opportunity for all of us is to harness the power of these new machines, fuel them with massive amounts of data, and offer new services and products to the market through innovative commercial models.
Consulting: What are the biggest consulting opportunities to arise out of this new AI/Digital landscape?
Roehrig: Big shifts like this are full of opportunities for smart consultants. Leaders are seeking help in figuring out how to compete with data. Business leaders we work with are wrestling with profound business questions about how to take advantage of new machines – AI, algorithms, bots – and new business models. They are keen to capture value generated by linking physical and digital value chains. Moving into the digital economy will impact banking, insurance, healthcare, and virtually every industry. This will be very fertile ground for consultants who can help guide us into the digital economy.
Consulting: How will companies be sure their workforces are trained and ready for these new skillsets that will be required?
Roehrig: What we found is that if you want to master the digital economy, be a better human! It may sound counter-intuitive, but in a world of more pervasive technology, activities that humans do well will be even more important in 2020 than today. Machines are great at calculations, so they are ideal for routinized, high volume, data intensive tasks. Conversely, they're not good handling things people are good at—like asking good questions, connecting disparate ideas to make something new, or even complex non-routine physical activities (like walking up and down stairs with a cup of coffee). Analytical thinking, communication, "making," and learning skills are all critical now, but in the digital economy these very human activities—things we do naturally, but AI systems struggle with—will become even more essential in our personal and work lives. Helping people learn to use our new tools, while strengthening the things humans can do better than machines, will be a good investment for companies (and individuals).
Consulting: What will be some of the biggest hurdles companies face as a cohesive digital strategy becomes a necessary part of running a successful business?
Roehrig: Leaders told us there are plenty of speed bumps, but really no brick walls to becoming digital. About 29 percent of respondents said budget constraints were a real problem, and 25 percent cited security as an inhibitor, but these findings will come as no surprise to anyone familiar with how large organizations work. The big surprise was really how low all the concerns are. Budget constraints top the list, but 71 percent of senior leaders don't see finances as a major obstacle to becoming digital. In fact, 75 percent of leaders don't see security issues as a force powerful enough to stop the coming change. This was actually one of our most surprising findings. So, there are plenty of legitimate concerns, but none of the expected obstacles showed up as real deal-breakers in the minds of senior leaders. Our recommendation to getting over these rough spots is to just keep rolling!