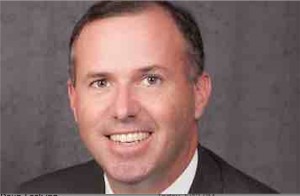 11. Meridian Compensation Partners
This marks the fifth consecutive year as a Best Small Firm to Work For for Lake Forest, Ill.-based Meridian Compensation Partners.
Jim Wolf, Managing Partner of Meridian, says he thinks the firm earned the recognition through some very simple strategies—investing in the right training, tools and resources; offering an environment where associates can work alongside and learn from experienced, senior consultants; and, earning people's trust through open communication.
"We stay focused on our basic mission to serve clients with excellence, develop effective consulting professionals in a collaborative environment, and run a thriving and rapidly-growing business," Wolf says. "We serve clients through a collaborative, teaming approach where each client has a single, accountable advisor who leads a dedicated team of consultants, supported by the full depth and breadth of our firm's resources."
No other firm in the business brings together both the personal service and the cumulative experiences gained from hundreds of large and diverse client companies for the benefit of each and every client, Wolf says. In addition, he says Meridian has achieved an important part of its mission in becoming one of the largest independent executive compensation and governance consulting firms.
It's not surprising then that morale remains high, even though Wolf says the work environment doesn't feature lots of perks and luxuries. "We keep things simple in a focused, collaborative organization where people have the right tools and resources to provide great service to clients," he says. "We show associates our appreciation for those efforts through fair compensation, and perhaps more importantly, through rapid development, new opportunities and respect as a consulting professional."
Wolf says Meridian was founded on a core principle to focus on a simple mission, and to respect each consulting professional, regardless of their experience or tenure. "Perhaps most importantly, we try not to complicate our consultants' lives with multiple internal "initiatives" that may seem well-intentioned, but in the end can detract from the fundamental objective of providing excellent client service," he says. "We have built a successful firm. Our partnership purposely shares a generous portion of our financial success with all associates."
The recognition again this year as a Best Firm to Work For validates the firm's goal to be the most sought after destination for compensation and corporate governance professionals, Wolf says. "Earning this recognition for a fifth time helps us deliver our unique value proposition to both consulting professionals and board-level clients across North America."
Q&A: When you look at the remainder of this year and 2017, what excites you? What opportunities do you see in your markets?
Wolf: "The final six months of the year typically bring intense client activity and some of our most demanding assignments, as clients gear up to complete the latest fiscal compensation cycle. Again this year we head into the fall with dozens of brand new client engagements earned over the past several months with the help of strong referrals from our existing client base. We expect a new administration in Washington will create a range of new challenges for our client organizations."
Stats Headquarters: Lake Forest, Ill. Billable Consultants: 58 Client Industries Served: All, with a focus on manufacturing, energy, financial services and retail Consulting Service Lines: Human Resources