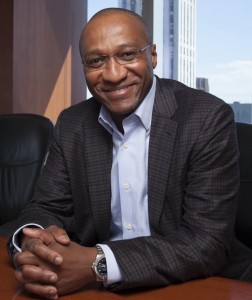 9. PwC
PwC has become somewhat of a Best Firms to Work For powerhouse, consistently ranking up among the profession's elite firms on the survey. And this year marks the eighth consecutive year for PwC, and its highest position in five years as it moves back into single digits.
The ranking, says Mohamed Kande, Advisory Leader, PwC U.S., is a source of great pride for PwC. "Putting our people first has always been, and continues to be, a key focus area at PwC. Creating opportunities and experiences that enable our people to achieve both their personal and professional goals helps us to serve our clients in new and innovative ways, and also enrich our broader community," Kande says. "This aspiration is captured in our brand promise, which we believe demonstrates our ability to deliver value, integrity and quality of service to our clients, the communities in which we serve, and to each other."
Kande says the firm understands that people not only want to meet and exceed the expectations of clients, but also those of the broader society they are a part of. Over the course of the last year, PwC has continued to enhance the programs and initiatives to do just that.
Kande point to several examples the firm has made a significant investment in its people from technology to training, but one specific initiative is The PwC Professional—the firm's career progression framework and road map for leadership development after receiving feedback that people were seeking richer development opportunities.
"We are providing our people with the skills and capabilities to deliver the highest technical quality, enhance their credibility and forge and sustain high-quality professional relationships, which in turn drives value to our clients through engaging them in new and innovative ways," Kande says. "Our development approach emphasizes frequent, informal feedback against these principles to maximize strengths."
These types of development opportunities are extremely important, Kande says, because the world is facing more disruption than anyone's ever seen before. Megatrends…like demographic change, urbanization, and shifting global economic and political power along with rapid technological breakthroughs, climate change, and resource scarcity…are driving uncertainty and are influencing the business issues that clients want to talk about.
"This excites me. We have the expertise, at a global level to help our clients find opportunities and reshape their business in this ever changing global footprint," he says.
Q&A: How would you describe morale at your firm and why?
Kande: "Each year, we ask our employees to participate in our Global People Survey, which includes an Engagement Index that measures the pride, advocacy, commitment and overall satisfaction of our people. This year's results tell us that morale is high, that our partners and staff understand how their individual efforts contribute to PwC's success and that they are passionate about providing exceptional client service. Of course, we, like other professional services firms, face challenging times in an uncertain economy, but we have a resilient business model. And, our partners and staff are truly proud of the value we provide to our clients and ultimately, to work for PwC."
Stats Headquarters: New York Billable Consultants: 195,000 (all employees) Client Industries Served: Virtually all Consulting Service Lines: Multi-Service