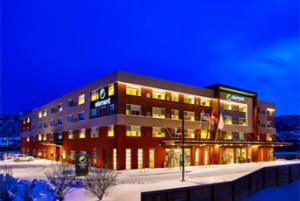 Starwood Hotels & Resorts Worldwide says it will significantly expand its Element Hotels portfolio in North America due to increased demand. On track to more than double its North America footprint over the next three years, Element will open another 22 hotels across the U.S. and Canada by 2018 including debuts in Philadelphia, Charleston, S.C. and Nashville, Tenn. Currently, the brand operates 19 hotels in North America and 22 worldwide.
As the first major hotel brand to mandate that all properties pursue sustainable certifications, Element is recognized as an industry leader in the eco-space and offers travelers a unique hotel experience. Element Hotels feature natural light, modern design, healthy options and eco-minded sensibilities, says Brian McGuinness, Global Brand Leader, Specialty Select Brands for Starwood.
"Element Hotels is experiencing unprecedented growth momentum throughout North America, as well as in a number of key global markets, due to the widespread appeal of the brand's distinct lifestyle positioning," McGuinness says. "Sustainability is no longer optional; it's become a requirement among a growing number of travelers worldwide."
Over the past 12 months, Element has opened new hotels in Boston; Miami; Fargo, N.D.; Bozeman, Montana; Basalt, Colo.; and Vancouver. The brand will add more momentum in North America by entering new markets by the end of 2018, including Chandler, Ariz.; San Antonio, Texas; Moline, Ill.; Syracuse, N.Y.; Bentonville, Ark.; and Huntsville, Ala. The brand will also increase its portfolio in Texas from two hotels to eight hotels by the end of 2018.
"Element is seeing tremendous success as conditions for new hotel development continue to improve," says Allison Reid, Senior Vice President of North America Development, Starwood Hotels & Resorts Worldwide, Inc.