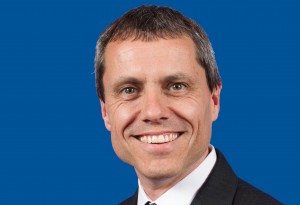 Tim Van Biesen Bain & Company Excellence in Healthcare
Since taking the helm of the Americas Healthcare Practice at Bain & Company in 2009, Dr. Tim van Biesen has at once expanded and reshaped the way the firm approaches its healthcare clients. Under his leadership, the Americas practice has grown more than three-fold over the last seven years, and he has introduced to the industry the concept of 'category leadership' —a focus on category depth, not breadth—that's now built in to many of Bain's healthcare projects.
As a result, Bain's Healthcare Practice, both globally and in the Americas, has been strong, a fact in which van Biesen takes a great deal of pride.
"I'm most proud of how we have built the firm's thought leadership in areas such as category leadership, complexity management, company operating model, and business transformations, which are proving integral as healthcare companies seek to streamline their operations and maintain their competitive edge," he says. "It's also gratifying to see our clients thrive in this uncertain but high opportunity environment.'
In addition to his work with corporate clients, van Biesen supports the firm's advisory work for private equity investors in the healthcare sector and, in 2011, launched the Bain Healthcare Private Equity Report. Today, Bain covers four to five times more healthcare deal activity than others in the market, and the report—now in its fifth year—reaches more than 4,000 investors and industry executives annually.
"Consulting is the only profession that enables me to build and maintain a fully integrated view of the entire healthcare landscape, including the constantly changing challenges, which I find to be intellectually stimulating," van Biesen says. "That, coupled with the fact that I'm surrounded by incredibly smart and thoughtful people—from the most junior associate to my client CEOs—makes my job as a consultant enjoyable and rewarding."
In addition to his client work, van Biesen serves on Bain's Global Compensation & Promotion Committee and plays a key role in the firm's partner and manager training programs. And for three years, he also oversaw MBA recruiting in Bain's New York office.
He says that someone once told him to surround himself with people smarter than he was and that advice has never failed him.
"Over the course of my 12 years at Bain, I've taken great pride in helping to build a strong team and watching them thrive, as well as seeing our client executives drive substantial change in their organizations and deliver market leading results," he says. "I'm also very proud of the informal referrals and references we receive'—not only because they fuel our business, but because they are validation of the value we add as advisors."
What does winning the award mean to you, your firm and clients?
"Peer recognition is always very meaningful to me—nobody knows more about what we do than our fellow consultants. As a firm and as a practice, we are excited about the incredible momentum we have built in the healthcare sector, and we appreciate the recognition and validation of this effort from Consulting magazine. This award really belongs to my Bain colleagues who have worked hard to create a strong leadership position in this industry."