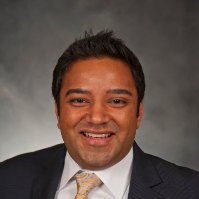 Srinivas Somayajula Jabian Consulting Excellence in Client Service
Srinivas Somayajula is a Director at Jabian who brings extensive experience serving clients across multiple domains and industries, including mobile technology, financial services, hospitality, and the public sector.
He is recognized for his experience and passion in helping clients define corporate and technology strategies using his expertise in market intelligence, decision analysis, and advanced data analytics. Somayajula has grown into a leader that his clients trust. In fact, Somayajula was nominated by a senior executive from a new client, which he says is a testament to all the hard work he's put in.
"Seeing firsthand how we've been able to make a large impact in a new client's business, gain their trust to do more and more critical work, and celebrate success with them over the past few years has been amazing," he says. "It's absolutely fulfilling to have the opportunity to solve our clients' most challenging and strategic problems and being able to bring unique, leading solutions and strong teams is what makes me proud."
In addition, Somayajula vigorously pursues opportunities for his team that align with their personal interests and goals, constantly seeking the win-win approach.
"While it may seem cliché, I wholeheartedly state that the biggest factor to my success would have to be the people I've worked with over the years," he says. "Working alongside intelligent people with complementary skills has given me the opportunity to grow and challenge myself and has been and will continue to be a humbling and positive experience."
The constantly changing atmosphere, the continuous growth and learning, and the opportunity to build and foster relationships is what Somayajula says he enjoys most about the consulting profession. "My consulting career has afforded me the opportunity to help my clients put their best foot forward across a variety of industries and functions in both the private and public sectors—very few professions enable that variety and perspective."
As far as being recognized as a Top 25 Consultant, Somayajula says the award validates the years of hard work that brought him to this point. "It also validates the platform Jabian has created for its consultants" he says. "For our clients it validates that no problem is too hard to solve if you've got the right people in the room—both clients and consultants alike."
A year ago, Somayajula welcomed his first child, an incredible little girl, he says. Since then, he has learned to balance the needs of family with the needs of his firm. "While I am passionate about both things, they require different skills and levels of attention," he says. "I am most proud of how I've managed to balance and give fully to both family and firm needs; the deliberate focus and concentration has made me better in both areas."
What motivates you to excel?
"Clients trust us and seek our counsel on their toughest problems. If I'm not doing my best, then I may not be helping the client excel and be their best. My motivation is to solve whatever problem might be in the smartest way possible for the client. Only when they excel, do I feel as if I have too."