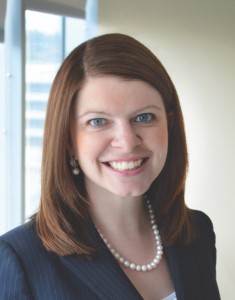 Sarah Petit MorganFranklin Consulting Excellence in Client Service
It's a good sign that the client respects your expertise when they request you personally write a curriculum for their staff based on your work with them. That's exactly what MorganFranklin Consulting's Sarah Petit experienced, and she calls it one of her proudest moments of the past year.
"After four years of providing audit advisory support to my government client, they requested that I build a curriculum for officers and staff non-commissioned officers (NCOs) on the requirements and components of an audit and how to sustain an audit. It was a great honor to be recognized by my client for my expertise and entrusted to impart this critical knowledge to the financial management community," she says.
She also takes pride in supporting her client through the first years of financial statement audit preparation and leading the team through its first successful audit completion.
"The work required designing reporting capabilities to build clear understanding of the audit status, reconcile open items, and communicate with the correct stakeholders in a timely manner to submit all documentation. I became a trusted advisor for my client and was able to shape how the branch was structured, how we communicated with the field, and how to apply detailed lessons learned to implement and drive change each year. Being able to see change happen and witness the shift from getting through an audit to improving business processes has been extremely rewarding," she says.
Petit stressed the importance of patience, focus, and flexibility as major factors to her continued success.
"While supporting my client over the past four years, I have changed and adapted my role while building on my expertise in their business. I gained an understanding of my client's mission, values, and focus so I could respond to their needs in a way that they understood and appreciated," Petit says.
When it comes to what she loves about her work, Petit says she enjoys objectively assessing a challenge and working with clients and industry partners to find the best solution to successfully mitigate any issues or risks, and working with people with unique skill sets, which she says helps her sharpen her own skills.
As for the Top 25 Consultants Award, Petit says it's humbling.
"I focus each day on giving the best to my client and enjoying the work I get to do and the team I have the privilege to lead. It seems basic, but being recognized for client service validates the value I place on supporting my client in executing their mission."
What motivates you to excel?
"I want to always be the best that I can be for my client, team, and company, and I also want to emulate the strong leadership examples that have been built into my career. Knowing the end result and goal of our work—supporting the warfighter—makes going to work to do my best each day have direct purpose and value-add outside of simply saving dollars or doing business more efficiently. Seeing the difference that can be made from the work that we do motivates me to drive forward."